......being you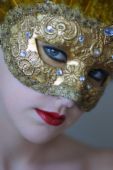 India
December 8, 2006 4:42am CST
how difficult or how challenging is being you?? do you wear masks for different places and situations and occasions?? do you have to compromise on your values, your sense of judgement or on just being you??
1 response

• Singapore
29 Dec 06
coming from a sales line, i have to admit that i have to put on a mask every time...and that's how i trained my sales team as well....you can feel very down in the dump, but as soon as you walk out of the office door to meet clients, you have to put on that mask and be a different person altogether. the market has became so competitive nowadays that you gotta be confident about your own product. however, i will always try to be myself when im with the clients, as i believe that i'm there not only to get the sales closed, but to provide them on what they need as well...

• India
30 Dec 06
i agree with you. we do have to wear masks and put up things that u might not like doing, but that is business. in personal life i better be myself or i be killed by my conscience !! thanx a lot, i really appreciate

• Singapore
30 Dec 06
i agree with you, when we are with our family, loved ones and friends, we should be ourselves totally and be genuine! Thanks for the best response!