Projections of stock trends & trading ranges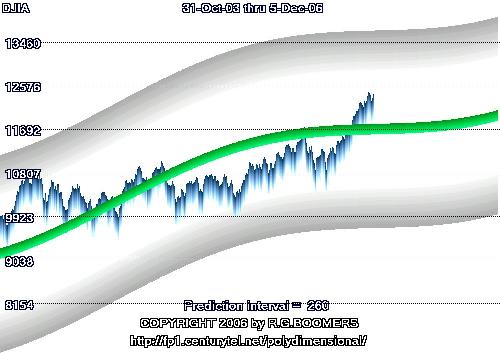 United States
December 8, 2006 7:45am CST
What US stock or world stock index would you like to see projected? These projections are not a recomendation to buy or sell. No investment decision should be made on the basis of any of these charts alone. Here is a 1 year projection of the US stock market as represented by the Dow Jones Industrial Average Click the chart to make it readable.
3 responses

• Australia
27 Dec 06
(after picking jaw up from floor) Glory be red! I believe the tips will come in extremely handy when the time arises and will lock them away in the future referance section of my books. Yes I can associate with your impressions of programers, haha as they are for the best part alike over here as well!! The occasional one is very helpfull, but I'm more into small progams which I use excel for! Not in the same league as yourself so can see from my aspect the degree of difficulty it would present for me! Tips his hat Hope you and your family had a good Christmas as we did thanks red!

• United States
27 Dec 06
Actually, you are in my league. Programming in Excel is very much of the same difficulty as programming in VISUAL BASIC. That's part of what bugs professional programmers about VB. In their opinion it is too simple. Anyone can do it, so they look down their nose at anyone who does. As to the tips, glad you like them. However, it pretty much seems self evident, most of what I pointed out. At one time my tips would have been merely the conventional wisdom. Perhaps, each generation has to rediscover the basics for themselves. Yes, we had a good Christmas, too. Glad you did. Until the next time.

• Australia
23 Dec 06
Hi red, okay I will let him know. So your a programer as well! Do you do this for a living or dabble in the markets for a bit of a challenge?

• United States
24 Dec 06
I am a computer programmer, but not a professional. Mostly I taught myself. On those few occaisions when I talk to professional programmers I am absolutely amazed at their snobbery. Many seem to be offended that I also consider myself a computer programmer. But the fact of the matter is that I write all my own programs to do my research. I also wrote all the programs that produce the charts at my website. The difference between myself and a professional is that most of them utilize multiple languages and have an output of quanity of work that dwarfs mine. This is because I am concerned with the undiscovered mathematics of the stock market, not computer programming. I program only because it is the only way to perform the millions of calculations needed to do the research I do. And the cost of a professional would be prohibitive. A professional programmer once quoted me a cost of $60,000 to write a program I wrote for myself in a week. Sure, his would have had more "bells & whistles" and been written in C++ instead of Visual Basic, but the final answers it would find would have been identical to that produced by my own program. I am concerned only with the results, not that a more elite computer language was used, or that the program has more " Gee whiz " features. There is no commercial program anyone can buy to do the charts at my website. All the algorithms for those charts are propritary to me. As to dabbling in the markets, you bet I do. It is fun. Let me pass on a bit of advice about markets. This advice is free and will save anyone a ton of money. 1) Do not day trade. 2) Do not buy put and call options. I have extensively tested methods of doing both of the above. Over the long term I have found no method, no matter how clever, that can consisently produce profit over the long haul. In fact, there is an insidious truth all should be warned about. There are many reasonable, intelligent, seemingly valid methods of day trading and playing options that will actually produce profit for awhile, but then will bite you for more than you have profited. This seems like it could not be true, but it sure seems to be ! So, what do I recommend as to the markets? Buy good sound companies making money and growing, when their PolyDimensional MetaTrends II charts are showing they are near or at a " bottom ". It is actually simple and low risk. However, you will not get rich quick. It will take several decades and you will have to put substantial money into the market. This is not very exciting and you can't quit your job to do it. This is not what most people are looking for in regards to the stock market, but it is all that the stock market really offers, if you don't want to lose your money.

• Australia
22 Dec 06
My Friend has looked at the charts and flows and is very impressed red....I'll get some more feed back as time continues!