What is your favorite ice cream flavor?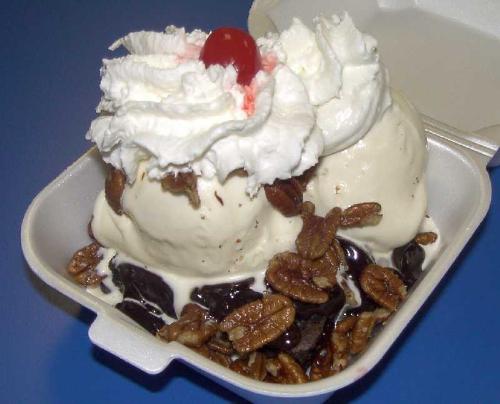 United States
December 8, 2006 12:20pm CST
I like chocolate chip cookie dough and rocky road. Who makes the best ice cream? I think Blue Bunny and Ben and Jerry's. Do you like to use lots of toppings (cherries, whipped cream, crushed oreos, m&m's, fudge, etc)???
9 responses

• Malaysia
17 Dec 06
my favourite flavour is vanila, chocolate, mango and many more. Ice cream really taste good especially the vanila ice cream. unfortunately, I limit myself to eat only once a week. What a bad luck that ice cream contain very high calories and can make me fat easily. Now I am heavier than my boy friend already and I can not imagine what will happen if I eat ice cream everyday.

• United States
18 Dec 06
Well, yeah, you can't eat ice cream every day! :) And it wouldn't be a treat if you did....I didn't know they made mango ice cream. I don't think I would like that flavor at all.


• United States
11 Dec 06
I've never tried rum raisin.

• United States
11 Dec 06
I didn't even know they HAD blueberry ice cream! :)

• United States
8 Dec 06
I absolutely LOVE Chocolate with Peanut Butter! That used to be the only kind of ice cream I would ever get! Lately I've been really hooked on this chocolate mocha ice cream too. It's SO addicting!!!

• United States
9 Dec 06
Both of those are good! :) I also like to eat frozen Reese's Peanut Butter Cups. They are really good.


• United States
18 Dec 06
You have an ice cream factory???

• Philippines
9 Dec 06
chocolate is my favorite flavor. be it with nuts, cookies, etc. chocolate is really my fave. i love it!

• India
8 Dec 06
I like vanilla. But i prefer butter scotch as well Thanks