Are parents responsible for juvenile crime? Should they pay?

Australia
December 8, 2006 3:47pm CST
There is a huge increase in the amount of juvenile crime, and in the amount of violence in those crimes. Vandalism of schools, shops and public property is also increasing and graffiti is turning whole districts into eyesores. Children are responsible for bodily harm and even murder. Who is to blame? Should parents be responsible for the debt incurred in restoring vandalised buildings and cleaning away the graffiti?What measures can be introduced to stop this decline?
7 responses

• United Kingdom
9 Dec 06
In majority cases yes it is as I see it now they shove the Kids outside no matter what the weather and what age they are just to get some Peace Teenagers are out of control because noone cares anymore where they are or what they do so yes I think in the mjority cases Parents are to blame

• Australia
9 Dec 06
Gabs I agree. I do quite a bit of counselling with teenagers and so many feel unloved and have a low self esteem. We see a definite downhill trend in the behaviour of children and I think a few cases of parents being faced with repair bills might be a warning to others. The police are very slow to charge children, but if legislation allowed them to charge parents we might see a few of them pull up their socks regarding child care and training. Thanks for your input.

• Australia
13 Dec 06
Maybe because the children weren't planned? an "accident"? I can see much more of this happening in the future. Here in Australia the government is now paying a baby bonus of $4000 to unwed mothers. Even high schoolers are now having babies just to get the money (they have stated it on TV) My heart goes out to those babies!

• Philippines
13 Dec 06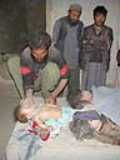 Parent are not responsible or ok, just a bit responsible because no amount of good parenting can straighten a child's crooked way of thinking. We are blessed with rationality and freewill, we must not blame other people for our inactions because that would remove our accountability for our wrong doings. I know of some people who came from ood families but how come they still do ill doings? It just goes to show that when a youngster commits crime, he must be blamed for it!!

• Australia
16 Dec 06
Thank you sassyces for sharing your thoughts. I agree and disagree, but each of us are entitled to our opinions. I agree we cannot blame other people for our actions or inactions. We must all accept responsibility and be accountable. I agree that when a youngster commits a crime he must be blamed for it, but I wonder if that blame should be shared. I would have to disagree with you when you say no amount of good parenting can straighten a child's crooked way of thinking. Where did he get his crooked way of thinking from? Surely he is conditioned by the way he is brought up: by the environment in which he lives and by the example set for him by his parents. In my experience I have known many "good" parents in "good" families, who definitely do the very best they can for their children - but who have no idea of training and discipline, or of molding a character in a young life. I believe that when children / youth get out of hand and commit crime and/or vandalism, the parent needs to face charges along with the culprit. This might shock neglectful parents into action, especially when the hip pocket is affected, and may shock the children into shame and a change of lifestyle.

• Philippines
10 Dec 06
Parents played a very important role in bringing up their children. They are partly be blamed in their childrens violent behavior and crimes. Parents should sometimes be given a dose of their own irresponsibilities.

• Australia
10 Dec 06
Thanks Neon. I'm sure you'll make a good parent. I do believe that parents should contribute to the costs involved in repairing damage done by their children in vandalism. I know it isn't practical, but sometimes I think compulsory parenting classes would be a good idea.

• Beaver Dam, Wisconsin
8 Dec 06
It's easy to blame parents when a child does something wrong. And, on many occassions, they are guilty of neglecting the child. However, sometimes, a child is just a bad egg and all the good parenting in the world does nothing to correct that.

• Australia
9 Dec 06
Can a child be a "bad egg"? I have yet to have that proven. I believe the environment in which a child grows is the biggest factor in determining the personality and character traits of the person, but I'll stand corrected with information to prove it. Thanks for sharing.

• Indonesia
9 Nov 07
I think the answer for me is definately yes, but not about how parents take an action to control their children attitute habbits or others, but parrents could control their son future by pay attention from their children close friends and their children surrounding friends, since I think majority of juvenile is come from their friends. IMO sorry my english is poor.

• United Arab Emirates
16 Dec 06
The Parents. If you dont bring up your children in a proper way, they grow up to be harmful to society. The way kids are brought up should be taken care of.

• Singapore
16 Dec 06
The way children are brought up is responsible for whether children turn to crime. Parents that are irresponsible are largely to blame, but of course the kids have the final decision whether or not they want to turn to crime. Parents may be to blame, but they should not we punished for thei actions of their children.