Body piercing

Ireland
December 8, 2006 4:25pm CST
My friend ( female 37) recently got her eyebrow pierced. I think theres a certain age group that kind of thing suits and shes beoynd it. Do you like facial piercings on women and should they stop at a certain age. She is now going for the nose and plans getting her tounge done next year. I think she should stop trying to look like a teenager. Am I right?
5 responses

• Ireland
8 Jan 07
Although I hate to say it, I think it very much depends on a person's looks and the type of piercings they have. I know a girl who is 45 and she has her tongue and nose pierced, but she looks fabulous. But I know another girl who's in her 20s and has her nose pierced and it's the most painful, ugly looking site I've ever seen. I'm sure every time I say hello to her I grimace. I was tempted to get a tatoo at one stage, but the thought of what it would look like when I'm aged and decrepid was enough to turn me off. I've a friend who has her whole lower back tatood like a rose garden. I doubt anyone will admire it in another 20 years.

• Sweden
8 Jan 07
I had my nose pierced when I was 13 and I kept it until I was 21 or 22. I thought that I was getting to old, and I was tired of it. I do not judge people with piercing, even if they are older woman or men, I think it is up to each and everyone to decide how they wanna look. Personally, I am happy with just having my ears pierced at the age of 26 =)

•
8 Dec 06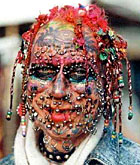 Oh I agree with you!! Teenagers maybe!! But even on teenagers I hate to see it Nose, tongue UUUuurrggghhhhh Some of girls who have REALY nice figures and have the belly button done is quite pretty But after that..... NO Look at this in the pic!!! WHAT????