If I could...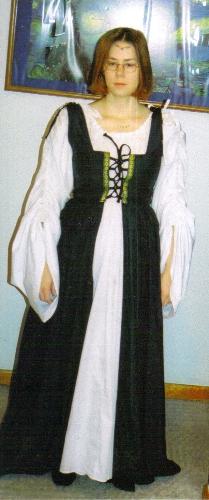 United States
10 responses


• United States
13 Dec 06
Yeah maybe we could bypass the corsets...

• United States
13 Jan 07
Don't got one of those...I just might have to look into that.

• United States
9 Dec 06
Ahh the days of olde!!! I would love to do that, but being as i am still a bit of a tomboy i would want my own sword!! I went to a Ren. Fair a few years ago and i was sooo let down, i really wanted it to be all about the dress and food and i wanted people to be talking with the old accents and everything and it was basically just a freaking flea market with a few people dressed up. Talk about a letdown!!!

• United States
9 Dec 06
WOW that would be a let down! Where was the fair? I want to make sure that I don't want to go. I think it would be cool to have a sword too. Have you ever went to a medieval resturant? I haven't but I so want to go.

• United States
9 Dec 06
No i have never been to a midevil resturant but that would be soooo awesome!! "Would me lady be liking a cup o mead?" Oh yeah i could get into that, lol!!!

•
9 Nov 07
I love the clothes from this period too but it must have been awkward fr women who had to cook and clean wearing such long dresses all the time. I have some tops with the wide sleeves and they do get in the way sometimes.

• United States
10 Jul 07
I am not really inot costumes that much, I prefer a nice suit and tie.

• United States
10 Jul 07
I guess that is why you choose your name LOL.

• Canada
12 Jan 07
Have any of you heard of the Society for Creative Anachronism (SCA)? It sounds like some of you would have fun there. In some areas, the SCA *runs* some of the Renn. Fairs! :) Folks involved with the SCA get together - depending on where you live, there may me opportunities most weekend and even weeknights - and learn about medieval/Renaissance history, pracitce hostoric crafts, engage in period martial arts, etc. It's technically an educational organization, but practically speaking, it's as much a social group as anything. You don't always dress up - that's usually just at big events on the weekends. But there are local groups all over the US/Canada, Australia, and Europe. Here's a lonk so you can learn more: www.sca.org (You can also track down the local groups here. :) ~Sara

• United States
5 Jan 07
same here! I think medevial/renissance was such an awesome time!!! I wish someone would hurry and build a time machine!

• United States
6 Jan 07
Me too! We should get to work on that!

• Canada
10 Dec 06
Oh, I'm absolutely with you! I'd LOVE to dress this way all the time! ... Okay, with maybe the exception of very hot summer days. But other than that, it would be awesome! Unfortunately, medieval dress is so expensive, not only to buy but to make yourself. *sigh* I guess I will content myself with dreaming. :) Thanks for a fun topic! ~Wyrdsister

• United States
10 Dec 06
Yes most of it is very expensive. Could you imagine what all those 'fashion' people would say if we all got together and started dressing like this all the time! It would be a riot!!

• United States
9 Dec 06
i would too. I always wish that I lived back then. I loved the way they dressed and it wasnt uncommon to have alot of kids and respected women.

• United States
9 Dec 06
And you worked for what you had. It was a more simple life back then in the basic ways anyway. I'm all for respecting women!!

• United States
17 Feb 07
Oh I'd love to have that type of clothing and to wear it all the time. Might not be practicle when driving a car but other then that I'd love to have them. They have such an elegance about them, even the most simple and plain ones.

• United States
11 Jan 07
Ohh I love Renn attire as well! It's so romantic! I wouldn't dress that way all the time but for going out to clubs oh yes, for awhile, till I had to switch it up & go the lollita sexy goth thing again, lol or the plain non dressed up gothy girl.