Make Your Own Personal Cup of Cappuccino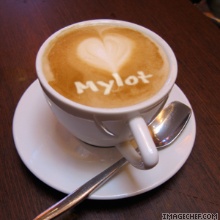 Australia
December 8, 2006 11:07pm CST
You can have your own personalised cup of cappuccino http://www.imagechef.com/ic/make.jsp a nice little generator.
5 responses


• Australia
4 Feb 07
You can have matching coffee to your Giant cookies :)


• United States
26 Jan 07
LilacLady, I just had to page through all the images for the topic "mylot.com" to find out who originally came up with this image, then go through all the discussions on your profile to find where you got it. In the end I'm glad that I did! What a great generator! I just wanted to post here to thank you for finding this and sharing it with the rest of us.

• Australia
26 Jan 07
its a good one isn't it, I have heeps of generators in my interests if you like playing with them like I do, Have fun....