Where and how did you meet your boyfriend or girlfriend?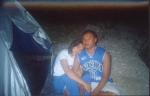 Philippines
7 responses

• Philippines
12 Dec 06
we met each other when we were in high school. he is my classmate during 1st year. he courted me from then on, but we became officially bf-gf after 11 years.

• Philippines
14 Dec 06
that's good...is he your husband now? :)

• Philippines
1 Jan 07
we'll getting married this july.. 7-7-7. :) wish us luck..

• Philippines
2 Jan 07
wishing you a more love, happiness, satisfaction, and more respect.


• China
23 Apr 07
I and my boyfriend meet each other at high school,we were classmates at that time.we love each other at the first sight.We have been together with each other for more than five years.And now we are very happy because we are not lonely and we have love.

• Philippines
6 Mar 07
I met my boyfriend on one of our company beach outings. He was with his family for his brother's girlfriend's birthday party as well. I was with my colleagues on the sea, trying to enjoy the waters though I don't really know how to swim well. I noticed him eying on me but I just ignored it since a lot of people do the same, especially to some new faces. But when he got closer to me and started opening the communication line between us, we both enjoyed the long talks we had merely about anything and everything. And I was even more amazed when we found out that we were supposed to meet a couple of days back, that was Thursday of that week through a common friend who invited me for some night outs. But I didn't show up on that day since I don't know the guys that much. Well, I call it destiny for us. Coz I knew we won't get into something serious if we got acquainted through that night out. :)


• Cebu City, Philippines
5 Mar 07
I met my boyfriend when I was still in grade school.He was my seat mate and we were classmates when we reached highschool. There were rumors circulating around our campus that I was his crush. He was also my crush but no one knew about it. I kept it as my sacred secret. He was not sucessful in courting me because I was too childish to handle the idea. After that, I went to a far away place I i studied my college there. We were not girlfriend and boyfirned by that time. I was too serious with my college. I worked as a student assistant of the University library. I had my crush there but it was only until there. my crush didnt know about that idea. After college and while I was working, I saw him again after six years of no communication on my classmats wedding. And from there we had a very wonderful realtionship. We are on our 8th years and together we are serving the Lord. We wanted to be used by the Lord before we intend to finally tie the knot. Sorry for a quiet long story.