Any Amy Brown fans?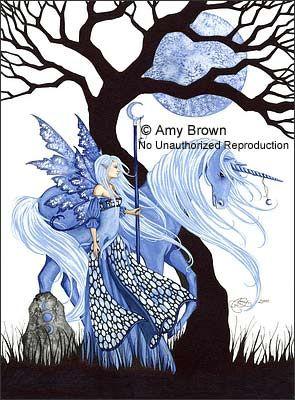 United States
3 responses

• United States
25 May 07
You know it's funny, I really didn't know who Amy Brown was...when I saw this discussion I decided to do a search of her work, and I couldn't believe that all along in away I had seen her work...quite often her prints are sold through Pyramid Collection--And fairy art is quite popular now..and I think we can maybe tribute Brian Froud as starting the whole craze on fairy art This is one of my favorite of Amy Brown's--it's a similar print to the one they sell at Pyramid Collection

• United States
25 May 07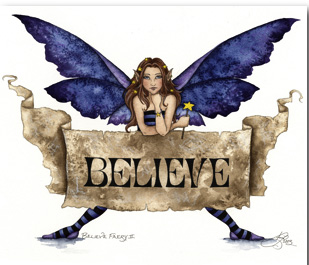 oops the pic didn't work first time round--had to switch it to Jpeg format

• United States
28 May 07
Brian Froud is another excellent artist that has been doing fairies and other fantasy art for a long time. What happened that the beauty of it finally caught on? LOL Now there are so many artist out there doing fantasy art, it is amazing. :) Glad to have given you another bookmark. Jessica is truly talented. :D

• United States
28 May 07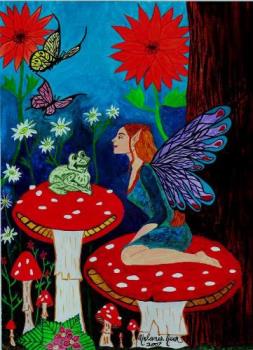 I know--I have his book, "Good Fairies, bad Fairies"---a classic I have done my hand at my own fairy paintings... I'll have to scan my others...but here's one--even though this is a watercolor, I don't exactly paint watercolor technique..more like acrylic...LOL


• United States
17 Dec 06
I love her work! I was walking through Walmart the other day and they have some collector tins that have stationary cards inside them! The back of the tin reads that there are twelve different tins, but I could only find two different tins. :( But I also like Jessica Galbreth. So also does some amazing work!!! http://www.enchanted-art.com/

• United States
17 Dec 06
I've seen those tins too. Although I haven't lately. I like Jessica Galbreth too. There are several of her statues I would love to have (if I had a place to put them) I just bought my neice a Nene Thomas figurine and it was beautiful too. I really like the faces of Amy's the best though...just something about it...

• United States
28 May 07
Gee thanks a lot tia...another page to bookmark...hehehe

• United States
1 May 07
LOve her work. The faeries are so beautifully done, I'd love to order one of her original pieces some day from her website.

• United States
2 May 07
That would be great :) I'd like some of her originals too.