Who owns a yorkie?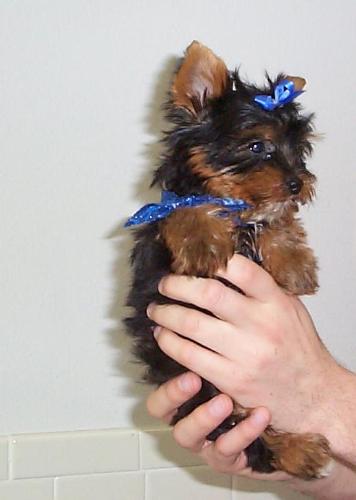 United States
December 10, 2006 8:27pm CST
How many people have a yorkie for a dog
5 responses

• United States
11 Dec 06
I have a mutt. Peopel sometimes mistake him for a Yorkie though. He defitely has some in him.

• South Africa
11 Dec 06
We have got a yorkie, they are so cute and learn very quickly. Our little one is 18months now and is always happy, friendly, loves children, and she is energetic. Yours still looks like a new puppy, thats cute. Hope you enjoy him!

• United States
12 Dec 06
I love yorkies. I actually dont own one. My bfs mother is a dog sitter and takes care of many many dogs. Either by staying at rich peoples houses or keeping their dogs at our house. SO i get attached to cutties like this little yorkie.

• United States
27 May 07
I don't have one, but want one! The only thing stopping me is the 3 lil monsters I got!! LoL Altho I know none of them would hurt a fly..They would just play to rough with it. Yorkies are such lil dogs that I think I am going to wait till they are old enough to realize u cant just squeeze and waller a dog that much...lol We used to have a chocolate lab before we moved and she kept the kids on their toes!! lol