I love Prison Break!!

United States
December 11, 2006 1:03am CST
Hi Peeps!! Anyone watching Prison Break? I love this series, and I love Micheal Scofield, so genius, so cute!!! What episode are you now? C'mon let's share our views about this very hot and interesting series. Share pictures of the casts: Micheal Scofield, Lincoln Burrows, Sarah Tancredi etc. See yah post!
9 responses

• India
11 Dec 06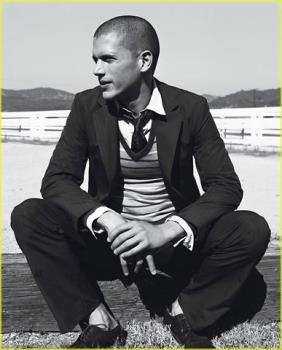 The show was outstanding from first season to mid 2nd season now then it went "meh" and now its picking up again.

• United States
13 Dec 06
He is so gorgeous!!! I just knew him in this TV Show. Would you know of his movies? I'll definitely look for it. Thanks!!!

• Canada
12 Dec 06
Like a lot of people I was sceptical when the series first came out but they did a wonderful job on creating a great new series, I've watched every single episode and I just finished up season two a couple weeks ago. I do not know how they are going to continue on with the series because once they expose the presedent then the whole plot is over unless they decide to take on the company after they take down the presedent. I love the tatoo that michal has, it is a true work of art, I love the thinking that went into such a thing I love advanced ways of thinking, I believe in people that are a true genius like scofield. I also knew sooner or later that the undercover agent was going to help Lincoln and Micheal out, I was actually thinking that the FBI agent was going to help them but I guess I was wrong on that part. I just hope that Sarah survives and doesnt get killed or doesnt kill herself right now, she seems more and more desperate now that she is all alone. Sarah is so damb cute and innocent, she has that attraction that I look for in a girl so she is also good to see on screen. ;)

• United States
14 Dec 06
Yes Sarah is beautiful. I can say that. By the way, what happens after this scene, after Kellerman turned out to be their partner? Any guess of what's going to be the ending?

• United States
14 Dec 06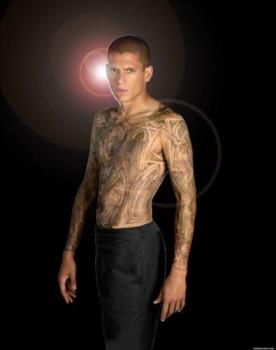 Here is the tattoo were all the breaking out started. I didn't like tattooes until I saw his. Now, I like to consider getting one. Heheh!! Hope you'll like his genius tattoo and his gorgeous body.

• Sweden
11 Dec 06
i never thought prison break could be so interesting. my boyfriend always tells me to watch it. however, i don't have a cable access at home and prison break isn't released on our local channels. but once he visited me here in the philippines and we get to stay in a hotel, i was able to watch 2 episodes of prison break. and i can say, it's a great story to watch!

• United States
11 Dec 06
Yes, so it is!! Well anyways, you can buy dvds in Makati Cinema Square for the Season 1 and an incomplete copy of Season 2. I have those too for collection. You can also read the recaps from http://www.fox.com/prisonbreak/recaps if you're REALLY, REALLY liking it and can't wait for the next show...and to break the thrills!! :)

• Sweden
11 Dec 06
really? how much will season 2 cost me then? thank you

• Philippines
18 Jan 07
i was able to watch the 1st season with my cousin when i stayed at their place, he asked me to watch it with him and men we were both hooked with this series. it was worth spending the whole night watching it than sleeping. we spend to consecutive nights watching season 1 and now we can't wait for the release of the 2nd season. aside from the unique and genius story line, i just adore wentworth miller, he's such a hunk. men, can't help but to admire him at every scene....

• Philippines
20 Jan 07
im already watching the 2nd season on dvd and its really exciting. i can't wait for it on tv so right after the 1st season, i rushed to looked for the 2nd season and i was never disappointed.I just so love wentworth! he's really a hunk and the best goodlooking ex-con ever.

• China
14 Dec 06
Yes. I love Prison Break. This is a very interesting TV series. I like T-bag most. I think he is the most attractive role in Prison Break. hehe......but, I don't think most of female audience will like him.

• United States
14 Dec 06
Whattt??? Hehe!!! Well.. it's your choice. But I had a glimpse of his good looks the first time I saw he dyed his hair. Then that's it !!! Probably it's being overlooked because of his bad boy role in this tv series. I'm also attracted to Dominic Purcell (Lincoln Burrows) I like the way he carries himself, wearing a blazer but still shows off his nice chest.

• United States
14 Dec 06
I love Prison Break. I look forward to it every week.

• New Zealand
12 Dec 06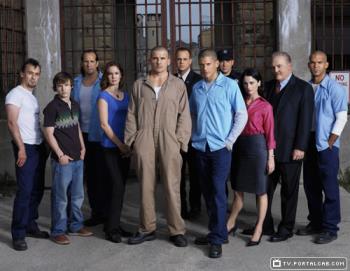 I also love Prison Break. It is one of my favorite shows right now on TV. I have watched all the episodes so far that came out. They are having a break now and won't be broadcasting new episodes for a few weeks. I can't wait to watch the rest of the episodes.