are u left brained or right brained?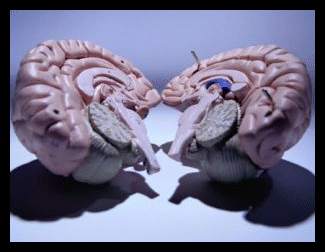 India
December 11, 2006 4:57am CST
Experimentation has shown that the two different sides, or hemispheres, of the brain are responsible for different manners of thinking.the people who use their left brain more are studious and intellactual.right brain users are artistic and creative people.some people are whole brained using both the parts effectively.
8 responses

• United States
11 Dec 06
I too am right brain dominant. Although I haven't been formally tested, it is pretty obvious for me. My language, speech, and especially writing skills far outweigh my mathamatical and science skill. I have no interest in "logical" type pursuits. I am very creative and artistic. I did a study on this when I was in college, it is really a facinating subject. Have you read any of the books that substanciate this? The studies are really interesting.

• United States
11 Dec 06
I agree. I usually don't get into sciene stuff, but I really love psychological and brain type science. LOL

• Australia
11 Dec 06
Actually, I'm quite extensively right-brain dominant. I had to take a psychological test which concluded that I'm so right brain dominant they believe that my language center, the area in charge of your reading, writing and spoken language, which is almost always located in the left brain, is located in my right brain. Quite funny.

• Argentina
11 Dec 06
hmmm i think i am just intermidiate, never been first in the class after 6th class. I think i am creative, but always take time to create anything. I remember most of the things correctly except my own mobile number :) hehe

• Canada
11 Dec 06
That's an interesting and complex question. While I was growing up I was a musician, went to college for music and had a professional career. I guess this would make me a right brained individual. But now Im a CSI cop and I investigate science related aspects, have to contemplate evidence, write reports, and generally do left brain stuff. So what does this make me, a convert?



• United States
13 Dec 06
I think I use both of them effectively, I'm not sure.

• India
12 Dec 06
very good information..but difficult for me to guess about my self..ne clues how to identify ?