Do you have a MySpace page?

United States
September 20, 2006 12:39am CST
If so, are you addicted to it and why? If you don't have one, why not?
4 responses

• Belgium
30 Sep 06
I just got started on MySpace, unbelievable right? Well I thought with all the hooplah about it it's about time. Today I customized my page and added friends. Let's see how it goes!


• United States
30 Sep 06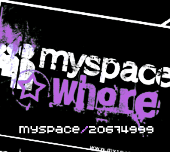 LOL, I would have to say I`m not as addicted to myspace as I was before I started coming on MyLot. I`m just all about making this money now and started to part with MySpace. Plus, i used ta get a lot more messages and comments and now it doesnt really mean that much to me so I dont keep up with it.