Scientist examines city squirrels' lives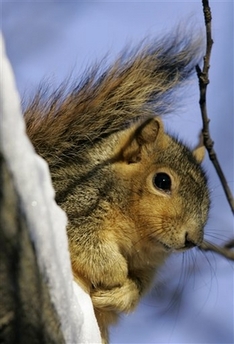 United States
December 11, 2006 2:31pm CST
I thought this was some intresting information CHICAGO - Squirrels hit the genetic lottery with their chubby cheeks and bushy tails. It's hard to imagine picnickers tossing peanuts and cookies at the rodents if they looked like rats. http://news.yahoo.com/s/ap/20061211/ap_on_re_us/city_squirrels
4 responses

• United States
31 Dec 06
wow, you ara so concerned in squirrels? it's a handsome animal.

• United States
31 Dec 06
why yes they are they are just adoreable :) I wish i could have one as a pet :)

• Taiwan
30 Dec 06
Squirrels don't look like rats...

• United States
30 Dec 06
i know they really don't but they are in the rat family

• United States
19 Dec 06
I think it is odd that we avoid hitting a squirrel but it wouldn't bother us if we ran over a rat. I am guilty of this too, I think squirrels are cuter than rats but they are all from the same family. What is even stranger is this article, someone is going to spend money and time to study the winter habits of squirrels. How bizarre!

• United States
19 Dec 06
i thought that was intresting to. I to avoid hitting squirrel they are just to cute even though the try to hit our cars i think LOL but when it comes to a rat i would avoid it, thats bad :)

• Egypt
31 Dec 06
Are you sure ? I am a scientist!