National Emblem of your Country...


India
December 11, 2006 3:14pm CST
..if possible post with the picture of your National symbol please... The national emblem of India is a replica of the Lion at Sarnath, near Varanasi in Uttar Pradesh. The Lion Capital was erected in the third century BC by Emperor Ashoka to mark the spot where the Buddha first proclaimed his gospel of peace and emancipation. The national emblem is thus symbolic of contemporary India's reaffirmation of its ancient commitment to world peace and goodwill. The four lions (one hidden from view), symbolising power, courage and confidence, rest on a circular abacus. The abacus is girded by four smaller animals, that are considered guardians of the four directions: the lion of the north, the elephant of the east, the horse of the south and the bull of the west. The abacus rests on a lotus in full bloom, exemplifying the fountainhead of life and creative inspiration. The motto 'Satyameva Jayate' inscribed below the emblem in Devanagari script means 'truth alone triumphs'.
2 responses

• United States
12 Dec 06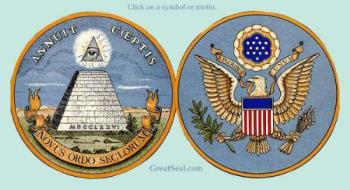 In 1782, Congress selected the bald eagle as the emblem of the newly formed United States, because it symbolized courage and might, and because it was indigenous only to the United States and to Canada. The national seal depicts the bald eagle with its wings spread, with one claw clutching an olive branch, and the other claw grasping arrows. The eagle, however, strikes different poses on other national depictions. The bald eagle owes its name to the early American colonists, and is bald in name only. As the white-headed American eagle differed from the European gray eagle, the colonists used their word for white, which translated into bald, in describing it. Unfortunately for the eagle, the literal translation, bald-headed, stuck like a toupee. Since ancient times, men have identified themselves with the eagle, because it creates an impression of majesty and of power while in flight. As early as 5,000 years ago, ancient Sumerians chose the eagle, in spread eagle form, as their emblem symbolizing their power. Ancient Romans followed suit, as did Emperor Charlemagne, and finally Napoleon. No doubt, Congress considered the eagle's historical pedigree as being the animal representing a nation's power, when selecting it to be the national emblem of the United States.