The benefits of eating carrots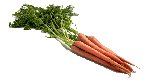 Philippines
December 11, 2006 6:28pm CST
Carrots have an extremely high beta-carotene content and have many health benefits, including giving protection against coronary heart disease and several cancers, notably lung cancer. Carrots can also lower blood cholesterol and help guard against food poisoning. Beta-carotene has been associated with an increased risk for lung cancer in smokers. The three studies that indicated this association did, however, test the association with amounts of beta-carotene that dramatically exceeded the recommended doses. Normal, dietary beta-carotene intake should be safe (and, in moderate amounts, may protect against cancer). Excessive beta-carotene supplementation could, however, create a problem. A balanced diet, that includes one portion of carrots (1/2 a cup of grated carrots) per day, should be fine.
2 responses

•
6 May 07
I love carrots. The noble carrot has long been known as an orange vegetable. Generations of people in the West have grown up believing that carrots are always orange. But as long ago as 2000 BC temple drawings from Egypt show a plant believed to be a purple carrot. It is also identified in the garden of the Egyptian King Merodach-Baladan in the eighth century BC. In Roman times carrots were purple or white. By the 10th century purple carrots were grown in Afghanistan, Pakistan and northern Iran. Purple, white and yellow carrots were imported to southern Europe in the 14th century. Black, red and green carrots were also grown. Orange roots, containing the pigment carotene, were not noted until the 16th century in Holland. This only came about thanks to patriotic Dutch growers who bred the vegetable to grow in the colours of the House of Orange. Experts believe Dutch breeders used a yellow mutant seed from North Africa to develop the orange variety and then stuck to it through breeding. Their colour comes from beta carotene with some alpha carotene, a pigment the body converts to Vitamin A, which is essential for healthy skin and vision in dim light. Dutch breeders recently studied the health qualities of purple carrots and believe they give us extra protection against various forms of cancer and heart disease. They contain purple pigments called anthocyanins, and act as anti-oxidants that protect the body. Carrots are the second most popular vegetable after the potato. Just a few carroty facts for you.

• Philippines
29 Apr 07
Carrot Benefits Did your child have a glass of carrot juice today? Here are just some of the reasons you should make sure your child gulps down at least one glass of carrot juice a day. Carrots are excellent for the eyes. Carrots contains large quantities of vitamin A, in the form of beta carotene. Juicing a carrot removes the indigestible fiber. Thus, the nutrients in it are available to the body in much larger quantities than if the carrot was eaten whole. This is because many of the nutrients are trapped in the fibre, and while fibre aids digestion, some part of the fibre is indigestible. Thus, you don't get the benefits of the nutrients that are trapped in the indigestible fibre. Did you know that if you eat a carrot raw, you only get access to about 1% of the available beta carotene? But, when you or your child has a glass of carrot juice, you your system absorbs almost 100% or the beta carotene! Does your child drink more Pepsi or Coke than water? While you may feel that these are just sweetened substitutes, you are wrong. In fact, these beverages have substances that require more water to eliminate them from the system. So, whenever your child asks for a soft drink, give him juice instead. Juice increases the water intake. Carrot juice has anti-carcinogen properties. Thus, it helps prevent cancer. It is also believed to have cancer-curing properties. Beta carotene is an anti-oxidant, and thus it prevents cell degeneration. Anti-oxidants also slow down the ageing process. Another fruit which is an excellent anti-oxidant is the berry. Carrots are also good for the skin. Carrot juice is like a tonic. It will improve the overall health of you and your child, and increase immunity. In fact, two glasses of carrot juice a day can increase your immunity by as much as 70%! Carrot juice is rich in so many minerals, that it's no less than a miracle juice! You could also add some spinach or beetroot to your carrot juice. Squeeze some lime into the glass, add seasoning if you must, and a tasty glass packed with nutrients is ready!