Why you earn money?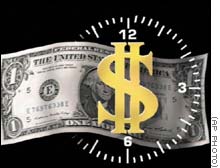 Sri Lanka
December 12, 2006 12:18am CST
Most of us are puting our full effort to earn some money. what is the point of earning more money? to spend and be happy, to save for feuater or spent to others.. what is your point of earning money?
2 responses

• India
12 Dec 06
I DONT HAVE ENOUGH FUNDS SO TRYING MY BEST AND PUTTING MY MORE AND MORE EFFORTS TO EARN SOME MONEY EXTRA MONEY

• Sri Lanka
12 Dec 06
Yaa that was my question why you need more fund to look ufter u'r self or to spend someone else?

• United States
12 Dec 06
After I'm done with bills, groceries and other necessities, I don't have much to spare for little extras. So my mylot earings go to those little extras - books, bubble bath, perfume oil, little things like that. Nothing big, just little things to make life a little bit nicer.