you are afraid particularly in anything speak here of it.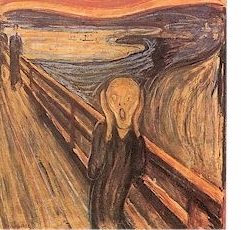 Italy
December 12, 2006 9:17am CST
In this painting that I repute one of the contemporary most beautiful deipindis of art I believe that the subject is frightened in to see where the world is going. You thing thinks of it?
2 responses


•
12 Dec 06
Eduard Munch's the scream, yes it is a painting full of fear and terror. In my opinion its a painting of great merit and chages the soul. It does display fear of losing a world