Rocky - this Christmas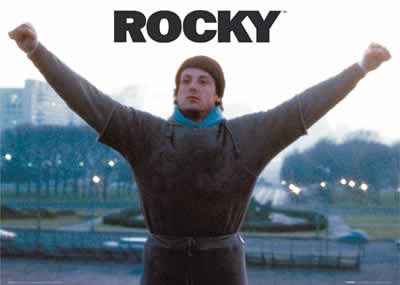 United States
December 12, 2006 9:46am CST
Are you going to watch Rocky this Christmas? I'm going to go see it in theatres! I know there's a lot of fighting in the movie, but I still think it's a love story between Rocky & Adrian as well. Did you see the first one, where he goes to the pet store and buys just one thing each time, he's building a turtle tank, but he buys just one thing each time b/c it gives him another chance to see Adrian. How SWEET is that??? Awww.... I love Rocky - I can't wait to see the next (and probably last) movie!!:)
4 responses

• Philippines
14 Dec 06
well i am a great fun of Rocky's i surely watch that final sequel happy watching!

• United States
13 Dec 06
I'll probably see it.... when it comes out on TNT! I like the Rocky series, it's just that every fight there's no defense... I mean, what ref in their right mind would ever let any of these fights keep going!?! The last four Rocky movies just got more and more obsured as they just traded blows for the last half hour of the movie... Actually, screw calling the fight, they both would be unconscious after two rounds of that punishment... I guess I watch too much real boxing to be a fan of Rocky nowadays!

• United States
13 Dec 06
You've got a good point on that one. I couldn't imagine being a boxer and getting beat up for a living. Sure, it pays well enough, but what about the hospitalization costs????

•
12 Dec 06
i love the rocky films, i will defently be watching it

• Beaver Dam, Wisconsin
12 Dec 06
I'll probably wait until it's on DVD. At first, I wasn't going to watch it at all, but looking at the previews, it might be interesting. As for your comment about the love interest between Rocky and Adrian though. She's deceased in this film.

• United States
12 Dec 06
Oh no!!! :( I have only seen the first 2 or 3 rockys - when did Adrian die??? I think the last one I saw is when he was fighting the Russian, that's the 3rd one right? I like the 1st one best.