Clothings made out of spider's web/silk?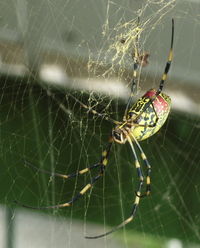 Philippines
4 responses


• India
9 Feb 07
As I found...Spider silk is the strongest natural fiber known. The most appealing type is the "dragline" that spiders use to move about and snag prey. Dragline silk is six times stronger than steel and can be stretched to 50 percent of its length before it breaks. Many peoples have also used spider web silk to make clothes from, when woven it is both strong and light. Although the weaving of spider silk has never become a commercial proposition it is still carried on by a few traditionalists in places such as Madagascar. Spider silk is known to have been woven by primitive peoples to make simple bags. Thanks I got new information today.

• Philippines
10 Feb 07
Spider silk is a remarkably strong material; the strongest naturally-occurring fiber known[citation needed]. Its tensile strength is comparable to that of high-grade steel — according to Nature (see reference below), spider silk has a tensile strength of roughly 1.3 GPa, while one source lists a tensile strength for one form of steel at 1.65 GPa. However, spider silk is much less dense than steel; its ratio of tensile strength to density is perhaps 5 times better than steel — as strong as aromatic nylon filaments, such as DuPont's Kevlar. In fact, a strand of spider silk long enough to circle the earth would weigh less than 16 ounces (less than 460 grams). taken from wikipedia.org

• Philippines
10 Feb 07
Peasants in the southern Carpathian Mountains used to cut up tubes built by Atypus and cover wounds with the inner lining. It reportedly facilitated healing, and even connected with the skin. This is believed to be due to antiseptic properties of spider silk (which is made of protein) Some fishermen in the indopacific ocean use the web of Nephila to catch small fish. Spider silk, normally that of the golden orb spider, is occasionally harvested and spun into usable textiles. Due to the difficulty of the process, the resulting fabric is invariably extremely expensive, and is generally utilised in fine couture.



• Philippines
9 Feb 07
yes, but it's not easy to produce or to synthesize the spider's silk than that of silkworm's.. thanks for responding

• China
6 Feb 07
I am from hangzhou China,Chinese silk, particularly Hangzhou silk,is just as famous as the Great wall in china Elegant,comfortable and beautiful,Chinese silk from hangzhou ranks among China's greatest traditional artistic achievements and modern treasures.Maybe,I will provide you all kinds of silk what you want.If you are interested in it ,I can provide you the picture of our products.

• Philippines
7 Feb 07
thanks but i have no plan of buying, maybe my sister would like to buy. anyway, i'm glad because of the Internet we can show the pride of our nation even just pictures. certainly the world is becoming smaller and smaller..