will INDIA be a developed country by2020...???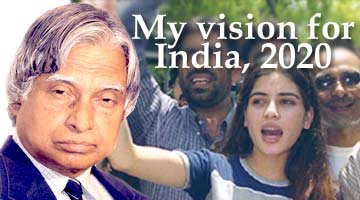 India
December 12, 2006 9:33pm CST
Will India be a developed country by 2020..? With this economy growth and having a GDP increase of 1% every year we can acheive it. But I think there is a big problem, that is Hippocratic politicians and bad beurocracy??? What do you think of this debate, your opinions are valuable, Please respond?????????
3 responses

• India
13 Dec 06
I don't think so because of those ever selfish politicians of our country around. They are the major hinderence of our econoic growth. Because of them, our infrastructure like roads, etc will be woirst and it directly affects our economic growth and hence the dream of Kalam of getting the super power in 2020 could only be a dream even at that time, I guess.

• India
13 Dec 06
well with the current growth i dont think so that india will produce itself as a developed country . its all upon the citizen of india that they take india to the heights of a developed country. if the citizens will co-operate then it can be possible. WELL IT'S ASKED IN INDIA 2020 THAT WILL U THROW SOME WASTE ON THE ROAD IF U ARE IN AMERICA--OBVIOUSLY WE THINK OF NO.,.THEN WHY DO U DO SO IN INDIA AND THROW ANYTHING ON THE GROUND WITHOUT EVEN THINKING OF IT.INSTEAD INDIA IS OUR OWN COUNTRY. SO C'MON INDIANS (DOSTO AUR BHAIYO) WE CAN TAKE INDIA TO THE ROADS OF A DEVELOPED COUNTRY

• Australia
13 Dec 06
yeah..i've heard about india's growth and its corruption n stuffs...y dont u guys stop blaming on ur politicians and be one urself if u wanna c ur country in ths stars!