Do you watch Oprah?

United States
December 12, 2006 10:23pm CST
I think she is an intelligent strong woman who isn't afraid to discuss the difficult subjects. I like the fact that I can watch her show and never have to subject my children to a screaming match, fistfight or cursing on her show. She has touched so many lives that I consider her to be a frontrunner in television programming. What do you think?
10 responses

• Canada
13 Dec 06
I hate Oprah. I think she is ugly, and inconsiderate. She has all this money, why doesn't she donate it to cure for cancer or something? I don't like her one bit. Her or Dr. Phil. Wish they would get off of TV. oprah just comes across as fake to me.

• United States
13 Dec 06
she actually has a wonderful charity, she gives away a lot of money for really good causes. She even built an entire community for those who lost their homes in hurricane Katrina. One of her betst attributes is that she really can inspire people to be better humans.

• Australia
15 Dec 06
i watch it if im waitin at doctors or something, dont mind it

• United States
15 Dec 06
I believe Oprah is a very strong woman and that she tries to help other people..from the little bit I pick up from others..here and there.. I am working when she usually comes on tv so I don't watch her;)+

• United States
14 Dec 06
Her show is something, never had a chance to see it though.


• India
13 Dec 06
actually who is that oprah?

• Brisbane, Australia
13 Dec 06
I love Oprah.I think she is a loving,kind person.She has done so much for charity with her Angel network.She goes to third world countries taking food,clothing,school books etc.Her shows are interesting and informative too.She isn't afraid to raise any topic.I wish there were more people in the world like her!

• Canada
13 Dec 06
I catch Oprah from time to time and I have nothing negative to say about her show. She seems to have a wide variety of topics on her show unlike your typical "celebrity interviewing" that appears on most talk show settings. I especially love when she gives stuff to her audience..she seems like a very open minded and kind woman :)

• Philippines
13 Dec 06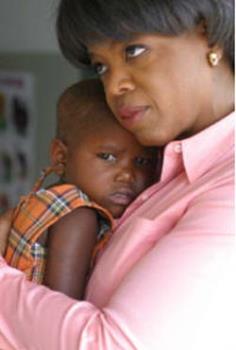 yeah, i watch oprah sometimes when i have a chance. her show is interesting and very helpful. oprah sets a good example to others, she is helping and caring to those that are less fortunate. i hope more and more people would be like her, someone that is kind-hearted

• United States
14 Dec 06
Yep, she's something alright, I don't watch her show though.