What do you think about Romania?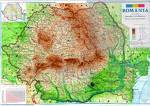 Romania
December 13, 2006 9:26am CST
Many people believe that Romania is an inferior country and thinks of this kind.Some people really believe that we shouldn't be accepted in the EU.What are your oppinions about Romania?
1 response

• United States
13 Dec 06
I think the rest of Europe doesn't know much about Romania (but we think Romania is better than Bulgaria). All I know about Romania is that the Checky Girls are from there, as well as Ozone (I thought that Ozone in their videos looked Italian and the scenery looked Italian too - perhaps if people thought of Romania as a version of Italy, they wouldn't be so hostile).

• United States
13 Dec 06
Well of course things will change. Romania and other eastern european countries have been cut off from western europe since WW2 - three generations have passed and a lot has changed in the west during that time. It will take a while for us all to get to know each other again. I'm glad our leaders in the EU said "Yes" to Romania - and I hope Romania will do her best to prove worthy of that trust. It would be nice for Europe to be one big happy family.