Maria Sharapova, Hot or Not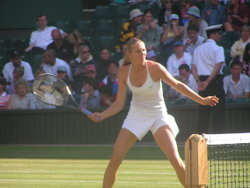 India
December 13, 2006 10:24am CST
In 2004, Sharapova became the third-youngest Wimbledon women's champion (after Lottie Dod and Martina Hingis) and second-youngest in the open era by defeating Ai Sugiyama (5-7, 7-5, 6-1) in the quarterfinals, Lindsay Davenport (2-6, 7-6, 6-1) in the semifinals, and two-time defending champion Serena Williams (6-1, 6-4) in the final. She also became the first Russian to win that tournament. But I think She is Very HOT. Wat do u think
10 responses

• Tanzania
4 Feb 07
She is very hot, and to the guy earlier, Ana Kournicoba was a good a player, she just let fame get in the way. She ultimately decided that fame was more important than tennis, and thats okay. In my opinion she (Ana)is probably the hottest female athlete ever.

• Pakistan
13 Dec 06
oh man shez not hot she very very very hot.... her long beautiful legs and beautiful innocent face shez lovely and offcourse gr8 player...

• India
13 Dec 06
ooohhh....seems u r just like,,,,i cant get my off 4m her

• India
13 Dec 06
sorry,,,,, u r just like me......i cant get my eyes off 4m her

• India
11 Feb 07
yesssss.. she's the hottest tennis player on court today... after all she's the proud successor of ANNA KOURNIKOVA

• India
12 Feb 07
yes dude,,,u r same like me


• Canada
13 Dec 06
Maria Sharapove is a beautiful young women. She is also a great tennis player and belongs in the WTA. She can actually win championships and is not just a pretty face and hot body on the court. Unlike one player that comes to mind....

• India
14 Dec 06



• Singapore
15 Dec 06
Maria sharapova.She is pretty and plays quite well.