How do you get pink eye?

United States
5 responses

• Philippines
14 Dec 06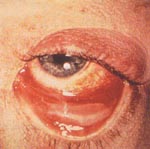 commonly known as pinkeye, conjunctivitis is an inflammation of the conjunctiva, the clear membrane that covers the white part of the eye and lines the inner surface of the eyelids. It is a fairly common condition and usually causes no danger to the eye or your child's vision. It can be caused by bacteria, viruses, allergies such as hay fever, and irritants in the environment. With antibiotic treatment, it typically goes away without complications.

• Philippines
29 Apr 07
Thanks for the information. I don't want to have pink eye or conjunctivitis.

• India
17 Mar 07
Conjunctivitis may be triggered by a virus, bacteria, an allergic reaction (to dust, pollen, smoke, fumes or chemicals) or, in the case of giant papillary conjunctivitis, a foreign body on the eye, typically a contact lens. Bacterial and viral systemic infections also may induce conjunctivitis. Your first line of defense is to avoid the cause of conjunctivitis. Both viral and bacterial conjunctivitis spread easily to others.

• South Africa
14 Dec 06
It is highly contagious, so if someone in your family has this they must use their own toiletries and towels. It is quite irritating and sunlight makes it worse but you can get something from the chemist for it. Where it started I do not know, could be something in the air. Another name for it is conjunctivitis.