FIRST TWO FAST FOOD OUTLETS

Portugal
December 13, 2006 9:14pm CST
Fast food restaurants are very popular and have been since the early 1940's. Without surfing the net, can any one tell me which were the first two outlets and where they were located?
4 responses

• Australia
14 Dec 06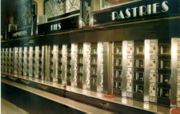 I don't know this one unfortunately gifana but I am very sure that I read somewhere recently that the first fast food restaurant was opened in 1912 in New York, but cannot think of the name of it now. It wasn't a restaurant as we know it, but had some sort of dispenser where you put the money in and the food dropped out. Maybe that doesn't qualify though. LOL At the time I did scan a picture of these machines, but cannot see anything other than the products that are available alas. I will however upload the image and you can see it. I will not cheat and look it up on the internet either, but maybe someone else can help both of us find the answers to our questions. :)

• Portugal
23 Dec 06
Sorry I didn't get back sooner but been w/o puter for aweek. I can only give you 30% on your answer. You got New York 1912 correct but am not gonna divulge the name just yet. Actually fast foods started in China a zillion years ago but they were considered more ready to eat than fast foods since they were regular foods and not greasy kid stuff. Stay tuned and maybe, if you are real interested, get the low down. So far no one has got both right. Thanks for dropping in and giving a clue to someone...nice to see you as always.

• Australia
23 Dec 06
Actually read an article on this subject only 2 days ago - while in the Doctor's waiting room, so you can imagine how old it was gifana. I do know the answers now. One was in New York and the other in Kansas, with the first selling from these vending type machines and the other sold hamburgers. I do not think that either of them are in business anymore. Do you want to know the answers or shall I leave it to see if someone else can come up with them? LOL

• Portugal
23 Dec 06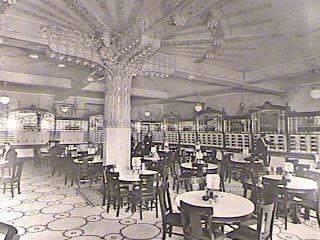 Ok I'll assume you got em correct. Your description and places are definitely correct. The first one has been overtaken by modern technology while the latter is still around in some places, if I am not mistaken. Thanks for coming back. Have a nice Christmas.


• United States
14 Dec 06
We believe that the first two were Rootbeer and Sanders Fried Chicken (later known as Kentucky Fried Chicken) which we think was in Indiana, and we are guessing that Rootbeer was in Chicago.

• United States
15 Dec 06
would it be A&W or Dairy Queen?

• United States
15 Dec 06
I would have to cheat and that wouldn't be fair to others who know the answer.