Zodiac Signs About Kissing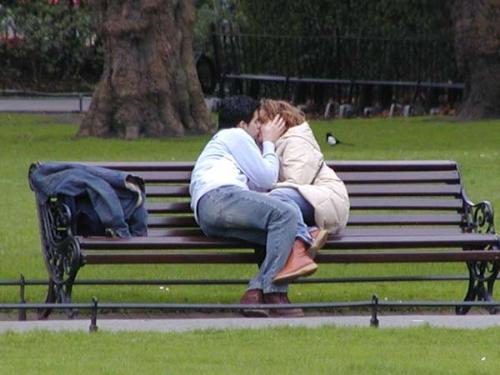 Philippines
December 14, 2006 2:08am CST
Aries - quick, passionate Taurus - deliberated, heartfelt Gemini - interrupted by giggles and smiles Cancer - warm, tender Leo - wild, biting Virgo - subtle, tidy Libra - a relief from the stress Scorpio - skip the kiss and proceed to s*x Sagittarius - surprising, wanting for more Capricorn - worrying about breath Aquarius - wet, messy, eyes open Pisces - starry-eyed, daring what can you say about this? this was a forwarded text message from my friend with a degree in Psychology. Which kisser are you?
7 responses

• United States
16 Jan 07
Thanks for the information. My sign is funny. I laughed as soon as I read it. I am a scorpio so u can obviously see what it says. I don't feel that is right but its cool to look at. I like to kiss more.

• Philippines
16 Jan 07
i wouldn't comment on this coz you already said it - you like to kiss more. but be sure you brush your teeth before you kiss... hehehe!

• United States
16 Jan 07
I like this, i'm a virgo and my boyfriend is a scoripio and i would say this is pretty accurate.

• Philippines
16 Jan 07
hahaha! so you're bf skips the kiss and proceeds to... you know... that's great!

• India
15 Jan 07
wow nice to hear that u r a saggi...even i m a saggi...n i must say u rather we got pretty nice comments for saggi..isn't it esp the part WANTING FOR MORE... so atleast we share something in common..i wish i cud hv a kiss with you..belive me we cud hv made a world record for kiss since both of us wud just b wanting to hav more n more.........

• Philippines
16 Jan 07
so u're a saggi, too, eh? good to hear that. thanks for commenting!

• India
14 Dec 06
I am a aquarius and the facts that you have shown is qite realistic. that is a nice thing.

• Philippines
15 Dec 06
oh i don't want a messy kiss... hahaha! i am sagittarius. hehehe.

• India
29 Jan 07
my sign is pisces and definately daring to kiss the girl i love.