Do you bathe your indoor cat?

United States
December 14, 2006 8:40am CST
My cats have never been outside. I have never bathed them. They do not smell. I brush them daily. Clean their eyes. I clip their nails. Is that enough? How about you?
5 responses

• India
18 Dec 06
Cats have an excellent inborn tendency to keep themselves very clean.. Unless specifically required, cats need not be bathed.. Besides, if not done properly, bathing may actually be of harm to the cat.. Besides, many cats are extremely disturbed when exposed to water.. Same way, clipping a cat's nail should be done only when it is absolutely necessary.. When the cat damages furniture or is aggressive..

• United States
18 Dec 06
I appreciate the time you spent to answer this post. I will be giving you a + rating. Thank you.

• United States
17 Dec 06
I occasionally will give my kitten a bath. At first she dind't mind it at all, but now that she is a little older she will struggle. Sometimes a bath is necessary when they stink to high heavens.

• United States
17 Dec 06
Does she smelll indoors? I have two cats that are indoor cats and they have no odor. They clean eachother, and it is so sweet to see. Thanks for answering so many of my posts. I'm doing the same for you. Have a great day.

• United States
17 Dec 06
Thanks Margieanne. My 2 cats don't really get along. The older one still doesn't want the younger one around. Sometimes Itty needs a bath. She has long hair.

• United States
18 Dec 06
Too bad that they don't get along. My two do. I have the 9 year old male, and got the little female one at 6 months old. It took only 2 days to like eachother. But, she is such a little stinker, she gets into everything and is a year old now. She is very affectionate and so clean. She even buries his poop in the litter. :)

• Canada
18 Dec 06
No I don't typically bathe my indoor cats as they don't really need it. When they were kittens though, that was a whole other story! For some reason they enjoyed playing and rolling around together in their litter boxes so they needed to be bathed! They actually didn't mind having a bath when they were little but I think that now they would hate it because they're just not used to it.

• United States
18 Dec 06
That is funny. I'm glad that outgrew playing in the litter box. Thanks for the reply again.

• Australia
18 Dec 06
I have in the past to a recent cat, but it was done from a very early age, and then I decided not too anymore, with the hours they spend washing themselves plus our cat now does not go out, she is clean I would say!

• United States
18 Dec 06
I never did either of my cats, and they are clean with no odor. Thank you for sharing.

• United States
14 Dec 06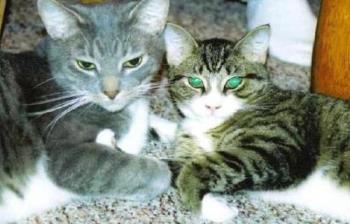 I don't because they hate it so much as as you stated they don't smell. And they clean themselves all the time.

• United States
14 Dec 06
Thank you for your response. I appreciate you sharing that with me. Happy holidays!