Uncle Bubba's Benne Candy - A Recipe from Paula Deen- found on Foodnetwork.com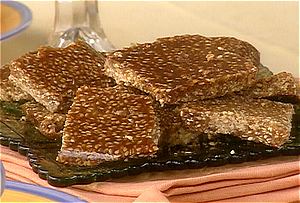 United States
December 14, 2006 11:42am CST
I just made this recipe and it is soooooo good. My husband ate more than his fair share. Enjoy 1 cup sesame seeds 1 (1-pound) box light brown sugar (2 1/4 cups) 2 tablespoons butter 1/2 cup milk 1 tablespoon white vinegar Heavily butter an 11 by 2-inch pyrex baking dish. Wash sesame seeds and remove any debris that may be in the seeds and drain well. Heat a cast iron skillet over medium high heat until a drop of water bounces around the skillet. Pour seeds into skillet and stir constantly. Dry and parch seeds until light brown, approximately 2 minutes. Do not burn seeds. In a heavy saucepan, combine and melt the sugar, butter, milk and vinegar. Using a wooden spoon, stir constantly until ingredients are dissolved. Cook over medium high heat to light crack stage. If using a candy thermometer, the temperature should be between 265 and 285 degrees F. Once it reaches the desired temperature, remove from heat and beat in the sesame seeds with your spoon. Pour immediately into prepared dish. Score candy while still warm and cut into squares when cool.
3 responses

• United States
15 Dec 06
Wow that sounds great. Where do you get all these great receipes from? I have an easy 1,2,3 one for you. Butter a 9" square baking dish. Place large 36 marshmallows in it in a single layer, touching one another. Mix 1 1/2 cups of semisweet chocolate chips and 1/2 cup peanut butter and 2 tbs. butter together, melt, and pour over the marshmallows. But into the refrigerator to get hard. Cut between marshmallows. Yummmmmmmmmy!!!

• United States
15 Dec 06
Thanks for the recipe Margieanne!

• United States
17 Dec 06
I hope you try it. It's so easy and so gooooooood. Thank you for the rating. Bless you.

• United States
15 Dec 06
wow does this sound good!!! I will have to try it!

• United States
17 Dec 06
This recipe came out so good. My family loved it.

• United States
15 Dec 06
Thanks for the recipe, it sounds delicious.