Baked Penne..its yummmmyyyy!! try it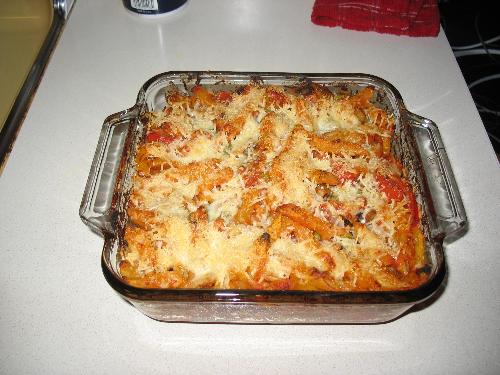 United States
December 14, 2006 1:14pm CST
Baked Penne with Roasted Vegetables 2 red peppers, cored and cut into 1-inch wide strips 2 zucchini, quartered lengthwise and cut into 1-inch cubes 2 summer squash, quartered lengthwise and cut into 1-inch cubes 4 cremini mushrooms, halved 1 yellow onion, peeled and sliced into 1-inch strips 1/4 cup extra-virgin olive oil 1 teaspoon salt, divided 1 teaspoon freshly ground black pepper, divided 1 tablespoon dried Italian herb mix or herbs de Provence 1 pound penne pasta 3 cups marinara sauce (store bought or homemade) 1 cup grated fontina cheese 1/2 cup grated smoked mozzarella 1 1/2 cups frozen peas, thawed 1/4 cup grated Parmesan, plus 1/3 cup for topping 2 tablespoons butter, cut into small pieces Preheat the oven to 450 degrees F. On a baking sheet, toss the peppers, zucchini, squash, mushrooms, and onions with olive oil, 1/2 teaspoon salt, 1/2 teaspoon pepper, and dried herbs. Roast until tender, about 15 minutes. Meanwhile, bring a large pot of salted water to a boil over high heat. Add the pasta and cook for about 6 minutes. Since you will be cooking the pasta a second time in the oven, you want to make sure the inside is still hard. Drain in a colander. In a large bowl, toss the drained pasta with the roasted vegetables, marinara sauce, cheeses, peas, 1/2 teaspoon salt, and 1/2 teaspoon pepper. Using a wooden spoon, gently mix, until all the pasta is coated with the sauce and the ingredients are combined. Pour the pasta into a greased 9 by 13-inch pan. Top with the remaining 1/3 cup Parmesan and butter pieces. Bake until top is golden and cheese melts, about 25 minutes. I've made this a couple of times and enjoyed it every time. I personally don't like zucchini so left it out. It looks very time consuming but actually its worth it!Try it, its delicious!!
5 responses

• United States
7 Jan 07
well, that sounds and looks good. doubleb66 sent me your way. said you were from tx, and that you are a cool friend to have around. so if you'd like, you can add me as a friend


• Philippines
8 Jan 07
wow! yummy! i love pastas! thank you for the recipe. i will try that next weekend! yumm!! :)

• United States
3 Jan 07
Thanks for posting this. I tried it and it was very yummmmmmmmmmmmmmmy. Have a great day.

• United States
1 Dec 15
@greengal
Looks yummy and I bet tastes yummy too. Thanks for sharing. Have passed on the same to my daughter who enjoys cooking.