What do you think of Ford coming out with Ford Mustang Sedans and Wagons?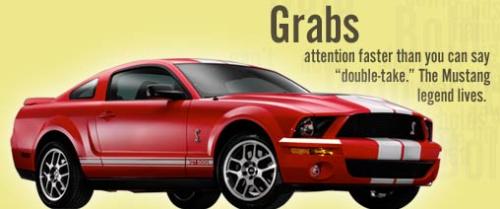 United States
December 14, 2006 2:38pm CST
There is an article on CNN saying that Ford will be coming out with Ford Mustang Sedans and Station Wagons in a couple years. Do you like or dislike the idea? I think it will be a little strange but am curious to see what the new vehicles will look like.
5 responses

• United States
15 Dec 06
Wow! I guess the mid-life crisis guy could have his Mustang and his family car too. But...I would think that it would take away from the whole persona of a Mustang. My partner once owned a Mustang. And I have to admit, it was very sweeeet driving it. But making it into a Sedan or Wagon? I think it just ruins the whole idea of the Mustang. But I guess I will have to wait until it comes out to see it for myself. I might actually like it. Are there any drawings of what it might look like?

• United States
16 Dec 06
I'm not really a Ford fan, but I don't mind seeing them coming up with new model of vehicles. I'd like to see them, it's about time for change.

• United States
14 Dec 06
Ewwwwwww! Ford is a sports car. What's wrong with them! Not a huge Ford fan anyways, I'm a GM gal, but why mess up a good thing when you had it!!!!?

• United States
14 Dec 06
Hum That seems a little odd and off to me. But I guess we'll have to see what they look like when they come out with them. Who knows they might end up looking really great.

• Canada
14 Dec 06
Doesn't that kind of defeat the idea of the MUSTANG. I mean isn't the mustang considered a sports car, and maybe even a muscle car in previous years. (I'm not sure about the muscle car part, so if not, sorry). If they turn it into a wagon they might as well destroy the Mustang image in peoples minds. I mean could you see a Porsche wagon, or a Ferrarri wagon. I realize that the class of car that Porsche and Ferrarri are in in comparison to the Mustang are a bit different, but still. Unfortunately after that rant I could see it flying with the public, because many people who loved the mustang are older now with families and dogs and whatever else that they need something that isn't a sports car but has the same power. Oi what a day we live in.

• United States
14 Dec 06
I agree with your comment as I feel that Mustang is a sports car and should be kept that way. It will be weird seeing it in a wagon or sedan form. I am sure people would buy the new models though and it would be good for people with families. Now a days you never know what to expect.