Can you have more that one best friend?

United States
4 responses

• United States
15 Dec 06
Sure you can. I have two. One guy, one girl. They actually don't know each other, but I feel the same about both of them.

• United States
15 Dec 06
Me too! 1 girl and 1 guy, they are good friends too.

• Australia
15 Dec 06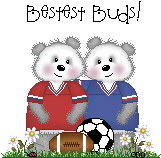 I think you can its not like you are married to a best friend and can't be unfaithful, I think it is wise to have as many best friends as possible as time goes by and people change some move on and it is good not to feel deserted and lone because you have restricted yourself to one good friend.

• United States
15 Dec 06
Sure, I think it's entirely possible. I've got a few best friends and I love them all equally. I tend to talk to one more, though, but that's mostly because she seems to be around more. They're all online, but that doesn't make them any less of a friend, you know? And they do actually get along with each other. We're a group of friends and even though we're all states and oceans apart, we're all close.

• Canada
15 Dec 06
Of course you can. AND you can marry them....and that way you get to meet all sorts of divorce lawyers