WATCH OUT FOR THIS NOKIA PHONE...WOWWW!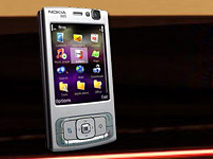 Philippines
December 15, 2006 1:19am CST
Operating Frequency • WCDMA2100 (HSDPA), EGSM900, GSM850/1800/1900 MHz (EGPRS) • Automatic switching between bands and modes Dimensions • Volume: 90 cc • Weight: 120 g • Length: 99 mm • Width: 53 mm • Thickness (max): 21 mm Memory Functions • Up to 160 MB* internal dynamic memory for messages, ringing tones, images, video clips, calendar notes, to-do list and applications • Memory card slot supporting up to 2 GB microSD memory cards * Changes to product details are possible without prior notice. Application offering may vary. Dynamic memory means that the available memory is shared between dynamic memory functions. When any of these functions is used, there is less available memory for other functions which are also dependent on dynamic memory. Power Management • Battery: Nokia Battery (BL-5F) 950mAH • Talk time: up to 160min (WCDMA), up to 240 min (GSM)* • Stand-by time: up to 215 hours (WCDMA), up to 215h (GSM)* * Operation times may vary depending on radio access technology used, operator network configuration and usage. Displays • Large 2.6" QVGA (240 x 320 pixels) TFT display with ambient light detector and up to 16 million colors User Interface • User Interface: S60 3.1 • Dedicated Media Keys • Multimedia Menu • Active standby screen Call Management • Contacts: advanced contacts database with support for multiple phone and e-mail details per entry, also supports thumbnail pictures and groups • Speed dialing • Logs: keeps lists of your dialed, received, and missed calls • Automatic redial • Automatic answer (works with compatible headset or car kit only) • Supports fixed dialing number, which allows calls only to predefined numbers • Conference call • Push to talk (PoC) Voice Features • Speaker independent name dialing (SIND) • Voice commands • Voice recorder • Talking ringtone • Integrated hands-free speaker Messaging • Text messaging: supports concatenated SMS, picture messaging, SMS distribution list • Multimedia messaging: combine image, video, text, and audio clip and send as MMS to a compatible phone or PC; use MMS to tell your story with a multi-slide presentation • Automatic resizing of your megapixel images to fit MMS (max 300 KB size depending on the network) • Predictive text input: support for all major languages in Europe and Asia-Pacific Data Transfer* • WCDMA 2100 (HSDPA) with simultaneous voice and packet data (PS max speed UL/DL= 384/3.6MB, CS max speed 64kbps) • Dual Transfer Mode (DTM) support for simultaneous voice and packet data connection in GSM/EDGE networks. Simple class A, multi slot class 11, max speed DL/UL: 177.6/118.4 kbits/s • EGPRS class B, multi slot class 32, max speed DL/UL= 296/ 177.6 kbits/s *Actual achieved speeds may vary depending on network support.
1 response