How to Mend a Broken Friendship ?

China
December 15, 2006 9:40am CST
When a friend hurts you, your instinct is to protect yourself. But that makes it harder to patch up problems,do you know how to mend a broken friendship?
6 responses

• Malaysia
20 Dec 06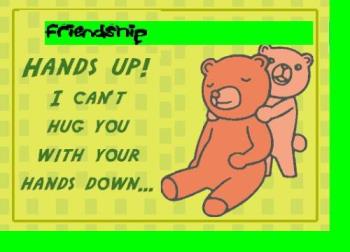 "Destiny" make two persons meet and become friend. So,do not simply give up a friendship. If you finds your friend hurts you and your friendship is broken,evaluate if this friendship is worth retaining,if yes,then,why not you take the first step forward to talk to your friend,finds out the reason of his/her action towards you,voice out your feeling due to this action of his/hers. Remember, the 2F for a good friendship..." Forget " & " Forgive "!

• Italy
19 Dec 06
Forgive them for acting stupid and allow them to forgive you for acting stupid. Place no blame just admit that you want to get along. Be charming. Be kind. Be honest. But then, if it was a true friendship it would not have been broken or need to be fixed so maybe you shouldnt worry about fixing it. Sometimes my best friend is a horse's butt. I ignore her bad behavior and talk to her again when she is ready to be sweet again. I dont harrass her for it later, i just accept her for who she is when she is ready, and I dont make her beg for my forgiveness. I act like nothing happened, because nothing did. Now if she ever did anything to truly hurt me I would blow her off.

• United States
16 Dec 06
Friendship broken with woman is very hard to mend as there is a saying "Woman's mind like a glassware, once it break could not joint" However, glassware can join with modern technology, so I think friendship can mend. First step is to be taken to depute a reliable third person who will consult with friend for mending friendship and if it is mendable then a favourable result will come. In otherway after forgetting all past happenings one should talk in person with another and should do it repeatedly then friendship if was true in past will mend. In my penpal magazine I printed a slogan that :- If you love something set it free If it comes back it is yours If it does not, it never was So if a friendship was not too deep in past cannot reunite as one friend will seek a reason to overcome it forever.

• China
16 Dec 06
If you love something set it free If it comes back it is yours If it does not, it never was i like this slogan:)

• India
15 Dec 06
It is so hard to mend friendships. It takes a lot of time to build up a good firendship, but just one bad remark or bad action to break it.