Are we in Hell or Heaven.

Edinburgh, Scotland
December 15, 2006 1:25pm CST
It seems to me that with so much killing and destruction going on we are in a kind of hell What do you think?
7 responses

• India
8 Jan 07
I think both heaven and hell are available on earth.It's the way you look at things.If you see suffering and loss and unhappiness everywhere, you feel like its hell. If you see love, smiles and sunshine around you then its like heaven.For any reason, if you see the hell side of the picture right now then pray to God to show you the other side of his magic.Don't loose heart.There is always a new day after the darkness.

• Egypt
8 Jan 07
I think life was always like this on earth, these times are no worth or better than times before, some of us living in hell and some in heaven and most are in a place in between (like me:) maybe at times of the two world wars people thought it was total hell but some people even among the destruction were living in their own heaven, even some parts of the world did not have war at all, there was times of plagues and diseases in older times, etc. our time is not really hell and better times (or worth) may still come. I wish you will have your own better days despite what's going on in the world:)

•
16 Dec 06
Lol.. I don't know about you Deeeky but I've got both my feet firmly on Earth! :-) I don't believe there is a Hell anyway, because I don't think any God/Goddess would punish His/Her Children so badly as to send them to such a wicked place for all eternity. But, having said that... all the killing and destruction in the world really does depict the kind of place we were taught was Hell! I agree on that one, totally.

• United States
16 Dec 06
Well I don't believe in hell perse but I think part of it is I think that life enough is a challenge. Just getting through it is bad enough. Why do we need someplace else to go afterwards that is supposedly a punishment. My thought is if we get through this then we need a reward.

• Philippines
15 Dec 06
it depends if you've been good enough, have fear in God and confess your seen and accept him as your savior thrugh jesus.... for sure you'll be in heaven.. we'll if you reverse that, you'll be in hell....that's a fact

•
15 Dec 06
i think we are in hell and awaiting another life of it, here we will stay until we learn

• India
15 Dec 06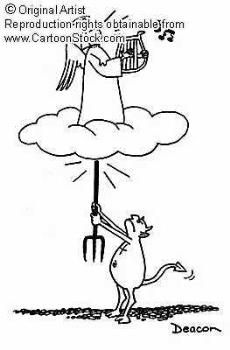 I think we all are in different places! those who are in hell are those who are poor and suffer, this is their punishment fr their sins! and those who are happy are those who are being blessed for their deeds!all living on the same planet!planet earth!

• Edinburgh, Scotland
15 Dec 06
Looks I am being punished then lol