When you say grace at meals, do you use a memorized prayer?

United States
8 responses

• Ireland
16 Dec 06
I have to admit that quite a lot of the time I do not say grace. When the family are together, I always ask my granddaughter if she would like to say grace as she learned a very nice one at school. My son who likes teasing and making the children laugh usually adds the following: Father, Son and Holy Ghost, Whoever's quickest gets the most.

• United States
16 Dec 06
lol... I don't think you're damned to hell for missing grace! We miss saying it too. Nobody's perfect!


• United States
16 Dec 06
May I ask what faith you are? Just curious.

• United States
16 Dec 06
I have never in my life said grace at a meal and would have no idea how to do it. Is this strictly a cathloic thing or is it cathloic and christian???

• United States
16 Dec 06
I know it is a Christian thing but I'm not sure if the Jewish do it also, I believe so. It's a way of thanking our maker for giving us the opportunity to have food.

• Canada
16 Dec 06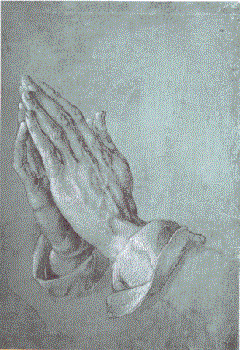 When we were growing up we always said the same prayer at dinner. I have moved away from that and now I say a prayer that is composed as I go along and yes it's more conversational. I don't believe there is anything wrong with memorized prayer if you know what the real meaning of your words is. But many people recite by rote practice and the words lose their meaning. I like talking to God in a conversational way, not just at meals, but anytime. He is my Friend and I feel I can go to Him anytime about anything.

• United States
16 Dec 06
I agree... all prayer is good, and listened to by our Lord.

• United States
15 Dec 06
We use a memorized prayer since my daughter (age 4) is the one that leads us in prayer. If there is somethin going on in our lives that we want to add, my husband or I will follow-up her prayer with we need to talk to God about. What do you do in your home?

• United States
16 Dec 06
When my kids were small we did the same. They were so proud they memorized God is Good, God is Great.

• United States
16 Dec 06
My brother in law says grace and always "freestyles"the prayer, to use modern day lingo! It sometimes goes on a little long and is often creative (he's an actor, director, and performer, so he always likes a "stage" to perform on!)

• United States
16 Dec 06
I do not use a memorized prayer nor does my family. We just create our own prayer and say what is on our mind or are wishing for. I think it has more meaning to come up with your own grace or prayer but sometimes it can be difficult.