This is what we hear from most of SACHIN TENDULKAR'S CRITICS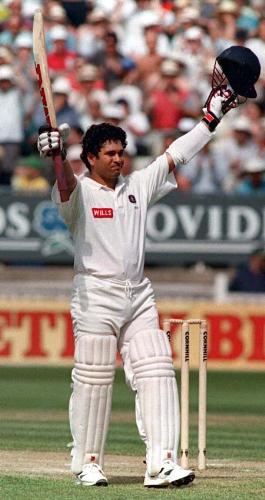 India
December 15, 2006 8:04pm CST
This is what we hear from most of SACHIN'S CRITICS 1.Selfish 2.Scoring Against weaker Oppostions 3.Failing in pressure situation Little Info about this 1.SELFISH Well Records are meant to be broken and if Sachin is breaking them critics[haters more rightly] can't digest them.. One of the incidents people mention is regarding his 194 knock against pakistan..some said it was slow knock..agreed it was a slow knock by Sachin's stature,but if it is compared wid one of the knock wid Dravid...this will not look as bad it seems.. Tendulkar- 194 runs in multan with a strike rate of around 54 Dravid- 217 runs in oval with a strike rate of around 46 I m just taking one example to tell that Dravid's natural game is to hold the one end and let the others to dominate..in multan Sachin changed his gears and holded one end and he let sehwag to dominate..played Rahul's role in that innings. Now this is called team game.. but people call it slow batting and selfish... Sachin always said Team's win is more important than personal landmark..He proved this statement in that very test by taking Moin Khan's wicket off the last ball of the 3rd day..That Ball was beauty!!Wasn't he happy at that moment??? Since Sachin is the most senior player of the team so he can't throw his wicket just to prove critics that he is still a master blaster...[he is still scoring at brisk rate in onedays]..People forget his fast scroing Centuries against world class bowling 169[201 balls] against South Africa in 1997 at Capetown 92[120 balls] against West Indies in 1997 at Bridgetown 155[191 balls] against Australia in 1998 at Chennai 79[ 85 balls] against Australia in 1998 at Kolkata 100 in 123 balls against NewZealand in 1999 at Wellington[he scored 113 runs in that inning] 155[183 balls] against South Africa in 2001 in Bloemfontein There are many other breath taking innings in tests from 10dulkar. But everyone please note this down..Sachin is the Only Batsman in Test Cricket who scored 3 Centuries wid a SIX 179 - 6 off Walsh[I remember it was a hook shot] against WestIndies in 1994 at Nagpur 124 - 6 off Min Patel[off spinner,straight down the ground] against England in 1996 at Birmingham 113 - 6 off Wiseman[off spinner,straight down the ground] against Newzealnad in 1999 at Wellington Critics says he plays for his records and centuries..Now just look to this.. One Day Centuries- 40[out of 40 centuries India Won 28 times and lost 11 times,1 century in a rain affected match] 11 centuries gone in Vain.. Half Centuries- 73 now here is that intresting part out of these 73 half centuries Sachin got 28 scores of 80 and above in these 28 scores if we take out the innings in which he was not out[coz of over completed or target chased] he was 5 times not out in such innings so now lets talk about remaining 23 innings Can u believe he has 10 scores of 90's??? If these 90's were converted in 100's the stats looks likes this Centuries-50 ODI centuries... and look he holds another record for those who have so much fuss about playing for records.. getting out highest numbers of times in 90's in ODI's ..just coz he wanted to score for the team and not for the his personal records he got out 10times in 90's Test Centuries- 35[12 in which India won,15 in dead tests,8 in lost tests] lone warrior in tests which India lost Half Centuries- 41 Intresting Part 12 scores of 80+ 6 scores of 90's convert them in 100s..he will pass 40 centuries in Test Cricket..sad for critics he played for team and thats why couldn't converted these 90's into 100's 2.SCORING AGAINST WEAKER OPPOSITIONS This can happen in India only.. People remembers 152 against Namibia and forgets 98 against Pakistan in WorldCup. People remembers 248 against Bangladesh and forgets his 7 centuries against World Champions Australia[4 in their own den].. Only one century against Bangladesh and share the honour of scoring test century against each test playing nation wid Dravid,Ponting and Garry Kristen...No one talk about other 3 batsman scored centuries against Bangladesh..then why the fuss for Sachin?? Test Australia - 7 Centuries[4 in Australia], 2 of them at the age of 18 in 1992 Bangladesh- 1 Century[Unfortunately his highest score in Test Cricket] England- 6 Centuries[4 in England], NewZealand- 3 Centuries[1 in NewZealand] Pakistan- 2 Centuries[1 in Pakistan] SouthAfrica- 3 Centuries[all three in South Africa] Srilanka- 7 Centuries[4 in Srilanka] WestIndies- 3 Centuries[ 1 in WestIndies] Zimbabwe- 3 Centuries[ none in Zimbabwe] 90+ 96 against Srilanka at Banglore in 1994 92 against West Indies at Bridgetown in 1997 97 against South Africa at Mumbai in 2000 90 against England at Banglore in 2001 92 against England at Nottingham in 2002 94 against Pakistan at Mohali in 2005 Intresting Part He scored runs in all parts of world..There are three types of wickets u generally found in Cricket..Fast and bouncy Pitches like in Australia,South-Africa,NewZealand,WestIndies,Spin tracks in India,Srilanka,Pakistan,and seeming tracks like in England. Today people talk about Ricky Ponting...now check this out contd Sachin's and Ponting's average at their own home soil is above 55 so nothing to discuss this here,but the real part starts now Sachin's average in Australia 54.15, 4 centuries Ponting's average in India,12.28, no centuries Sachin's average in England 71.60, 4 centuries Ponting's average in England 42.63, 3 centuries I am taking records for these countries only bcoz.. rightnow,best fast bowlers are from Australia,best spinners are from India,Best Seamers from england[as there is no choice bcoz only england have such pitches] Anyone can take easily tell who played gud cricket against best attack on all kind of pitches... One Day Australia - 7 Centuries + 1 score of 90's Bangladesh- 0 Century England- 1 Centuries + 1 score of 90's Kenya- 4 Centuries Namibia- 1 Century NewZealand 4 Centuries Pakistan- 5 Centuries + 4 scores of 90's SouthAfrica- 3 Centuries + 1 score of 90's Srilanka- 7 Centuries + 3 score of 90's WestIndies- 3 Centuries Zimbabwe- 5 Centuries 90+ 90 against Australia in 1996 at Mumbai 91 against England in 1997 at Sharjah 95 against Pakistan in 1998 at Dhaka 93 against Pakistan in 2000 at Hobart 93 against SouthAfrica in 2000 at Nagpur 93 against Srilanka in 2000 at Dhaka 98 against Pakistan in 2003 at Centurion 97 against Srilanka in 2003 at Johannesburg 93 against Srilanka in 2005 at Nagpur 95 against Pakistan in 2006 at Lahore Intresting Part Only 5 Centuries against minnows like Kenya,Namibia[non test playing nation]...and Kenya was the semi-finalist of the world cup'03 10 scores of above 90 against only test playing nations...now can anyone tell me how is he selfish?? 34 times he scored more than 80 and couldn't reached 100..If he played for his records..he could easily scored 100's all of those scores above 80's ... 3.FAILING IN PRESSURE SITUATION ODI Won Chasing Target M R H AVG 100s 50s Sachin- 101 4397 134 58.62 13 23 Dravid- 72 2124 109* 49.39 2 19 Ponting- 77 2670 124* 53.40 4 17 In Quater Finals Sachin- 3 210 141 70.00 1 0 Dravid- 2 57 48 28.50 0 0 Ponting- 3 118 46 39.33 0 0 In Semi Finals Sachin- 7 232 83 33.14 0 2 Dravid- 4 28 58 42.66 0 1 Ponting- 5 71 37 14.20 0 0 In Finals Sachin - 36 1487 134 47.96 4 9 Dravid- 23 690 103* 34.50 1 3 Ponting- 33 1217 140* 45.07 2 6 All Finals Sachin- 47 1954 141 46.52 5 11 Dravid- 30 943 103* 37.72 1 5 Ponting- 41 1406 140* 40.17 2 6 In Series Won Sachin- 127 5548 186* 51.37 19 26 Dravid- 76 2645 153 42.66 2 22 Ponting- 177 7245 145 47.98 18 45 In Test 100's in Tests India Won - 12 100's in Tests India Lost - 8 100's in Test Drawn - 15 Holds the record of maxium number of 100's for loosing team...That means a lone warrior..Thats why once Indian Cricket Team was called as ONE MAN ARMY!!!! More Intresting Part!!!!!!!! Often said Sachin gets fail at crunch situation...Well 1st we must admit that when Sachin on the crease Win is sure...As soon Sachin gets out..the situation becomes crunchy!!! Sachin is out,now who will win match for us?? Dravid?? or Sehwag?? or Yuvraj?? Or Ganguly?? No one sure who will win match for them... So bcoz of this thing Teams targets Sachin as the most precious wicket... Nasser Hussain introduced Negative lines for Sachin Tendulkar to stop the flow of runs when he is on wicket!!! Local umpires also involved some times to help their team against Sachin Tendulkar,espeically Australians! Some incidents striking in my mind...I think Sachin is the player who got out maximum numbers of times bcoz of bad or wrong decision by Umpires..I m producing those incidents only which I remember,there may be many other too 1. 92 - out of a NO ball from Frankline Rose against West Indies in 1997 at Bridgetown..Remember India lost the test just by 38 runs..U can just imagine how much that bad decision effected the result of the match!!! 2. 83 - Out of a NO ball again..[don't remember the bowler] last test in WestIndies in 1997.Draw Test. 3. 67- LBW off Crains..last test against NewZealand in 1999, was not out coz the ball pitched outside the legstump.Match Drawn 4. 61 - caught at forward shortleg,bowler Shane Warne.against Australia at Adelaide in 1999.. the ball touched the thigh pads and Umpire Darel Harper gave him out.. India were 107 for 4 when Ganguly joined Sachin and they put on 108 runs for the 5th wicket.. 5. 0 - LBW bowler Macgrath..against Australia at Adelaide in 1999,same test, nothing more to say..Everyo
3 responses

• India
16 Dec 06
I dont Blame sachin. Because, He has already contributed a lot to Indian team. He should take Rest for some time from International games. Should come back with good form to team.

• India
16 Dec 06
Hey buddy give us a break why r u harping abt Sachin? If at all he has some courtesy left he should quit the game completely he is blocking a place in the team.By providing some statistice is not going to make any difference Lara is way ahead of Sachin. Sachin will have to be reborn if he were to match Laras class.

• India
16 Dec 06
Exactly !!! i dont understand y Sachin isnt playing like Lara now. Be aggressive n charge !!! We all rememba how Lara suffered bad form for more than 15 months but then wot did he do ? Came back aggressively. Sachin must play like that now, but still u cant ignore his previous records.