spiderman3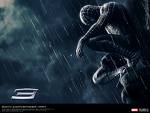 Philippines
December 16, 2006 12:45am CST
have you seen the spiderman3 trailer? isnt it cool?
3 responses

• India
19 Dec 06
I think its good dear I have seen the trailer of spider 3..... spider man3 trailer link check it out film.com/ video/2783985" target="_blank"http://www.ifilm.com/video/2783985 Spider- Man 3 is a 2007 superhero film that is the third film in the Spider-Man film franchise based on the fictional Marvel Comics character Spider-Man. Sam Raimi, who directed the previous two Spider-Man films, takes up the helm again with a returning cast that includes Tobey Maguire, Kirsten Dunst, James Franco, and J. K. Simmons. The film also stars franchise newcomers Topher Grace, Bryce Dallas Howard and Thomas Haden Church. Spider-Man 3 is scheduled to be released in both conventional and IMAX theaters on May 4, 2007.

• India
16 Dec 06
the trailer of spider man 3 is cool and hope spiderman 3 willb a better movie than spider man 2 and spider man 1 lets see by the way when is the release of spider man 3? can anyone answer it?