Which is the best professional camera?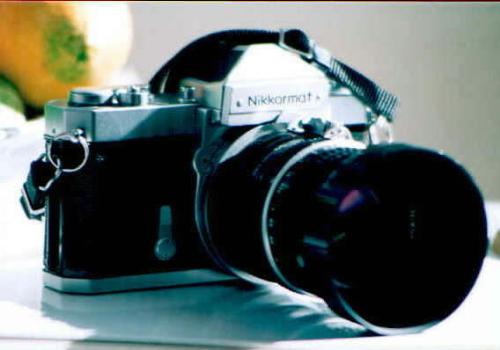 India
December 16, 2006 7:24am CST
I want to buy a new camera to get into professional photography. Can anyone suggest me a camera that is best suited for professional use. (I am into wildlife and other outdoor photography)
5 responses

• United States
16 Dec 06
Are you looking for a film camera or digital?

• United States
16 Dec 06
If you're not on a tight budget I would go for a Nikon D80 ($899 for body only, $1299 for kit). If you want to go Canon get the Canon 30D. Personally I'd go with Nikon because I like thier flash system better. If your a beginner, I'd get either with a kit lense, but if you really want good quality images you are gonna need to get other lenses depending on what kind of shooting you do. I'm not to familar with Canon's system of lenses, but for a great all around lense for Nikon the 18-200mm VR (~$800) has been praised by many.


•
25 Dec 06
I would suggest to have a look at the Canon S2 IS with 12x Optical Zoom or the Sony DSC H2 also with 12x Digital Zoom. The best website to decide on the type of camera needed is http://www.dpreview.com

• Philippines
16 Dec 06
I'd suggest a Canon 350D or a Canon 400D Digital SLR. It's quite pricey but it's a really good camera.

•
25 Dec 06
I too agree with this one. I would go for the Canon 400D over the Canon 350D. With the added advantage of megapixels, the Canon 2350D being 6MP and the Canon 400D being 10MP. I would go for the Canon 400D anytime.

•
25 Dec 06
The best Digital Camera for a wildlife photography should have a good zoom capability. Since for a wildlife photography needs to be done from a remote location from the subject. So the best one would be Canon S2 IS with 12x digital zoom or Sony DSC H2.

• Romania
16 Dec 06
The absolute hottest trend in technology today is the digital camera. America, Europe and all of the Asian market has raced towards photos made of pixels, rather than molecules of silver bromide. Even the king of film Kodak has abandoned the traditional camera for an all-digital product line. Here in the "states", most Digital Photographers are on their second, third, forth and perhaps even their fifth digital camera, as the technology has progressed at a blinding pace. Personally, I'm on my eight digital after having started with the first ever consumer digital, the Apple Quick Take 100 in February of 1994. Oh, I started out in film cameras with a hand-me-down Kodak Brownie Bullet in 1959 (I still have it too!). I was hooked on cameras and I trained with my uncle, the great fashion photographer Frank Misek, "head photog" for SB & D in Chicago. Of my collection of 20 some professional cameras, my favs are my early Hasselblad 500C, a 1935 CONTAX I F and my old faithful Olympus OM-1. With so many incredible digitals being built by an amazing number of manufacturers for the advanced (prosumer) and professional photographers, just how do you know what to buy? Certainly, we can't test every one in short order. But based on exchanges of user stories and analyzing printed specifications, we've chosen a small number to test by our "Prosumer" and Professional Photographer review panel to present in this multi-segment article. All of the included cameras are used in real-world applications by our seven-member review panel comprised of "Prosumer" and Professional Photographers. We have two "advanced camera enthusiasts" who shoot art or nature images, two press/magazine photographers, fashion and product photography professionals and a special events photographer that shoots weddings and corporate media, to graduations. These are all working photographers that make money with their work and know what a good versatile camera is. After the "Pros" use them and provide us with their reports, our own Tech Lab engineers measure, prod, poke and shoot benchmark images with each camera under various conditions. The expected durability and quality of construction and materials is also observed and analyzed as part of the review. I'm also part of the mix too. As I get to use the camera last and because I'm the "old fart" that still pines over the wonders of 25, 50 or 75 year old film cameras which I've used that are older than I am. I also like to give an opinion on the handling of the digital cameras as an effective photographic tool. Please enjoy the series and we hope that you return for each segment, as another top-level digital camera is added to our gallery. This is an article taken from http://homepage.mac.com/techedgeezine/2004_0615-best_digitals1.htm