To shave or not to shave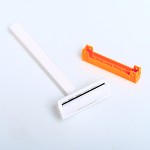 United States
December 16, 2006 9:02pm CST
Do you like to keep things trimmed up "down there"? Do you go in for Brazilian wax jobs? DO you just shave yourself clean? Or only trim whatever might be sticking out of a bathing suit? If you're a guy, do you try to make your jungle more appealing to your partner? Or do you really care if you're one hairy mass? LOL
5 responses

• United States
22 Dec 06
I prefer a smooth surface aswell. But am too afraid to get the wax done. It hurts like hell to bet my eyebrows done and I can only imagine how that would feel. What do you use to shave with though. Like a razor or a shaver. I have the worst razor burn sometimes. Any suggestions?

• United States
22 Dec 06
To be honest, I really like the Schick Quattro for women. It's about as expensive as most of the men's razors out there, but the blades are sharp and last a long time. I was able to get my razor and 2 things of refill cartridges for free, but they're good quality, I think. I haven't experienced a problem with razor burn in a while. http://www.quattroforwomen.com/ If you register at that site, they often send out coupons for refills, and you can even sign up for free razors sometimes. :)

• South Africa
2 Jan 07
I get rid of everything - myself that is, no shop or salon. I used to go for waxing but then i would just do a bikini wax. Wasnt all that bad as they allow you to keep your undies on. Altho, i went to a salon once and i swear they nearly ripped my friggin skin off. Left there with blotchy skin and bleeding armpits.....So not going there again! But it became more of a hassle than anything so now i just stick with them blades.......

•
2 Jan 07
i shave every 2 day's i hate to be hairy it makes me feel unhygenic lol!

• United States
2 Jan 07
and once the hair starts to grow back, there is the itch factor, too. LOL

• Philippines
22 Dec 06
I do trim but not shave my hair down under totally. Because it feels clean and not annoying when I walk. Oh! you just reminded me to trim, I'll be doing that the moment I shut down my computer.

• United States
23 Dec 06
I guess I'm glad to have been of service? LOL