Is there really such a thing as Bad Luck?

Philippines
9 responses

• India
28 Dec 06
Happening of one thing which we dont want to happen is considered as bad luck.



• India
23 Dec 06
Well I think Bad luck is all psycological,if you think this has happened and my day is going bad,well every day is not the same,you cant be perfect everyday.

• United States
22 Dec 06
I don't believe in bad luck. Things just happen, and that's that. It's a superstition.

• United States
17 Dec 06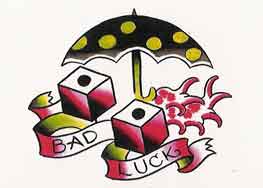 I'm not sure I would call it 'luck' per say, like you can change it with a spell or something... but I definitely believe people have a run of bad luck as in some bad things seem to happen in a stretch of time. I don't think you can rid a person of it, it's just a matter of things happening.

• India
17 Dec 06
ya i believe there is something called bad luck and good luck.

• India
17 Dec 06
its really a nice question.. yes i think bad luck and good luck do exist.. see if this is a very good question and i think everybody should respond to your discussion but thoug you dont get any response........ its your Bad luck.. right.. you take care and have a nice day..

• Cambridge, England
17 Dec 06
No, I don't think that 'bad luck' and 'good luck' really exist. People we call 'lucky' because they always seem to get the cream may just have a positive attitude and an aptitude for knowing just when to do something (or when not to). People who seem to be always unlucky may have a negative attitude and lack the ability to turn things to their advantage. There's no doubt that some things do happen randomly and that if we experience something good - a 'stroke of good luck', it tends to make us happy and more positive. That, in turn, may attract things to us which are not quite random - a new job or a chance to do something which only falls to a few people. I believe that the secret of being lucky rests much more than we think on having a positive attitude and being more aware of our surroundings (and less brooding and introspective). Self-assurance, a faith in God and a genuine interest in and caring for other people are all ways of improving our positivity and helping to reduce the negativity. A positive attitude may not always make us rich. It depends on what our heart's desire is.

• Philippines
22 Dec 06
You are so right. Having a positive attitude is a good thing. Reminds me of the saying: Laugh, and the whole world laughs with you; cry, and you cry alone. Thanks for your reply. That was nice.