Do you think too much or feel too much?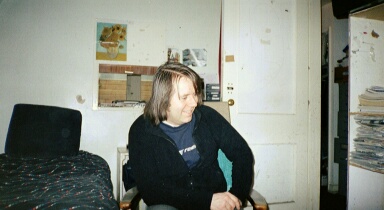 United Kingdom
December 18, 2006 10:05am CST
Some people think too much. From the moment they wake up, the thoughts start going, and they spend all day thinking, thinking, thinking, the thoughts coming into their minds at great speed. Are you like that? Or do you feel too much, and are sensitive and easily touched, moved, hurt? Do your feelings make you vulnerable, and would you rather be tougher? Or perhaps you both think and feel too much? If you do this, you may be a genius! Which are you?
4 responses

• United States
18 Dec 06
Others have described me as a softie. I do find myself thinking about the problems of others and trying to come up with a plan to fix those problems. When the plan doesn't work, I find myself taking the blame. I would like to be tougher, be able to say the word "NO" more often. But, I am a believer of treating others the way you would like to be treated. Guess I can't wear that armor all the time.

• United Kingdom
29 Dec 06
We warm most to soft people, and they tend to be popular and well-liked, but of course there are times when they suffer, feeling they have no one to turn to themselves, having so long been the listening ear and sympathetic shoulder for others.

• Australia
19 Dec 06
Nature abhors a vacuum. I believe this applies to the brain as much as anywhere else, and I read that it is impossible to think about nothing. I suppose ACTIVE thinking is another thing, and of that I am totally guilty! My mind doesn't stop from the time my eyes open and I jump out of bed early every morning, until late at night (or early the next morning) when, as soon as my head hits the pillow, my mind stops and I am asleep. I love the power of thought. I have no idea who wrote this poem. I found it in a book with no indication of author, so I hope I'm not breaching copyright: I am your greatest helper, or your heaviest burden. I will push you onward, or drag you down to failure. I am completely at your command. Half of the things you do, you may as well turn over to me, And I will do them correctly and quickly. I am easily managed: but you must be firm with me. Show me exactly how you want something done, and I will do it. I am the servant of all great men, And, alas, of all failures as well. Those who are great, I have made great. Those who are failures, I have made failures. I am not a machine, Though I work with the precision of a machine. You may run me for profit, or run me for ruin: It makes no difference to me! Take me, train me, be firm with me, And I will place the world at your feet. Be easy with me, and I will destroy you! Who am I? I am your mind. I am your thought process.

• United Kingdom
29 Dec 06
I like that poem...:o) The mind can be a great gift, especially with regard to creativity. Those with powerful imaginations are never alone, because they always have the miracle of their thoughts to keep them company. However, keeping thoughts positive is a vital discipline. I practise it ever day; although sometimes it doesn't work, and I get very low in consequence. But that doesn't deter me. Positive thinking brings joy, negative, misery.

• Australia
30 Dec 06
That suggests another post - is it better to be positive or negative? - optimist or pessimist? I'm afraid I'm a definite optimist and very seldom negative. It's the best way for me.

• United Kingdom
30 Dec 06
It's the best way for me too. Negativity casts me down and depresses me. So I expend alot of my daily energies staying positive and thinking positive. I think when you're a highly discerning, there is always the danger of cynicism, but cynicism does not make for happiness, either for oneself or others. I have strong likes and dislikes, but I try to avoid being destructive through these.


• United Kingdom
30 Dec 06
I agree. A profound and hyperactive mind can be the source of a good deal of personal torment, the price paid I guess for never being bored!!!


• United Kingdom
18 Dec 06
Thanks for your response. Creative people need a little of both I feel, although it could be said that there have been profoundly creative souls who have been either almost totally feeling/intuitive, or totally cerebral/rational. For those who are both, life can be very hard I feel, and overload is a possibility. They will need some kind of outlet, lest this occur.