indias first win in south african soil....

India
December 18, 2006 11:57am CST
comment on the splendid first victory of india in the south african soil
6 responses


• Pakistan
19 Dec 06
yes i agree the inclusion of dada has an impression but dont under estimate the good work done by laxman and dancing SRISANTH though VRVR singh was disappointing

• India
30 Dec 06
this shows that india is capable to be a champion, they have to perform in a similar way consistantly

• India
29 Dec 06
yes it was a great show put up by the indian and they deserve the victory

• India
30 Dec 06
yes india deserved the victory, i think we need to support the team when then are doing not well also because we know our team has the potential and can do well...........

• Pakistan
19 Dec 06
i am truly esctatic on the win of subcontinental team in SA .I was over the moon when when indians defeated aussies in 2004 acttually i was hoping opptimistically a series win but this time around they have a chance in SA.dont ruin it

• India
30 Dec 06
yes i think india should work hard and not become complacent in the next matches..... i am sure they can do it, what do you say?

• India
19 Dec 06
its marvellous!!!!!!!nothing more can be said about it!!!!!rahul dravid the indian captain rightly said that it was a team performance!!!!!cricket is team game !!!!!sometimes the individual performances helps a team to win a game !!!!but this game becomes the best to be watched when a team performance takes a team to victory!!!!!just like india this time!!!!!!everybody right from the senior members of the side like sachin,rahul ,laxman,kumble,sourav ,sehwag did well..the juniors like sreesanth,vrvsingh,zaheer were fantastic!!!!!overall its was nice to watch the "team india" after such a long time!!!!!!

• India
30 Dec 06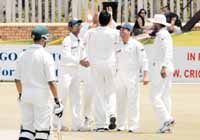 yes you are right, it was a team performance which got india its first victory in south africa..... i feel the team has the potential and should work hard to be on the top

• India
30 Dec 06
strange? how can you say that, india has shown to the world that it can do it, cheer the indian team

• India
18 Dec 06
Yes!!!!!!! Bravo!!!!! Cheeres!!!!!!!! In the remaining 2 matches bring them on the earth...You can do it!!!!!

• India
19 Dec 06
yes i think now india should not show any complacancy and perform in the other 2 matches, your views on ganguly??