Favourite Jim Carry movie...

Canada
6 responses

• Philippines
2 Jan 07
Liar Liar and bruce almighty..its very funny and touching.

• India
19 Dec 06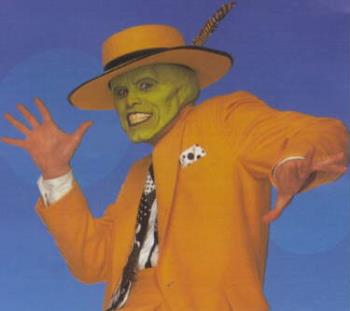 "THE MASK" is the movie that i feel the funniest film i have ever seen of Jim Carrey. And i thought that it is just great. Carrey plays unlucky bank clerk Stanley Ipkiss, who one night finds an ancient mask. When he puts it on, he turns into sort of a cartoon character; think Roger Rabbit on acid. The really great thing about the movie is that they just turn Carrey loose. Anything that you can imagine him doing, he does here. A particularly funny scene is when the police tell him to freeze, you'd better believe that he freezes! All in all, Jim Carrey's humor will never get old. He may have given his all-time funniest performance in "The Mask".

• India
19 Dec 06
his fav movie will be liar liar he acted very good in that move and the theme is also very nice and i will like to see it again and again

• Canada
19 Dec 06
My favourite Jim Carrey movie would have to be Dumb and Dumber. I don't really like Jim Carrey that much. I know he's Canadian and all, but I just don't find him overly funny. Dumb and Dumber was probably my favourite though. I didn't really like the Ace Ventura movies all that much either. But who knows, maybe he'll come along with a movie that will blow me away. I hope so, I'd like to see some more good movies come out soon! *cough* 300

• India
19 Dec 06
mine is Liar Liar, he has expressed his fatherhood there very decently .