What animal you like the most and why ?

Belgium
December 18, 2006 11:50pm CST
I like dogs and I hate spiders.
6 responses

• Italy
19 Dec 06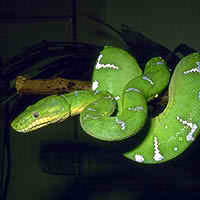 All creatures are amazing. I can't hate an animal.. I can hate an human being, Humans are Bad and Cruel, not animals. Snakes in sciamanic cultures are strong Spirits of Wisdom, only the Church has stalked snakes because they thought they were friends of Devil. Spiders too are strong Spirits of Art, creativity and Magic. All animals are beautiful, all have got a strong symbolism and power. I like Felins.. my favorite is Tiger. I like Bears, I like Wolves... I like spiders and snakes too. I love all creatures... but not all human beings. Many of them are evil. Animal is never evil, never.

• Portugal
19 Dec 06
I love Tigers and Eagles, they are beautiful animals with a big "animal personality", they are great and they know that.