What does your Mum do Best?

United Kingdom
9 responses

• India
27 Dec 06
My Mom is best at everything. 1). She is best at cooking , it is delicious. 2). She is best worker at home and outside also. 3). She is best at respecting everybody. 4). She is best at loving her kids. 5). She is best at keeping the place neat and clean. 6). She is Best at taking care of my Family. 7). She is best at everything, she is uncomparable. I am proud of you mom.

• United States
19 Dec 06
My mom is always there for me, even when I don't feel I need her to be. We make Christmas dinner together. Mom comes over on Christams Eve so that we can make bread and desserts then I get the roast and turkey in the oven Christmas morning. Mom & dad usually show up between 10:30 and 11 am and Mom & I finish up making the dinner.

• Indonesia
19 Dec 06
My mom is a very caring person. She's also the best cook ever, her soup is my favorite. She is so wise and often encourage me to be more mature. She never complains no matter tired she is doing her housework. I even sometimes cry remembering how hard she tried to raise us during the hard times. I love my mom, she's the best. I hope all people love their moms too..

• India
27 Dec 06
my mom the best lady in the world..... she is a good family person , a good busnesswoman , a cook and the list goes on....... she loves me and always there for me!!! i m really proud of her!!! the best thing that ever happend to me is that i m born from her!!!

• United States
27 Dec 06
My mothers - most children wish for a good mother, but I was blessed with two wonderful mothers - were wonderful listerners; wonderful cooks; very industrious; great storytellers and outstanding teachers.

• United States
27 Dec 06
my mom is best in everything what she do.Even if she scolds me for something i do.I don't get angry for that.I love her so much.She gives up everything for myself to be happy.Even i live far apart,i am close at heart!

• United States
22 Dec 06
My mom is best at being mom!!!!! She is supportive 100 percent at what I do! And the other day I was upset about getting a bad grade...she was there for me and she belived in me! My mom is best at many things. Making Pancakes:) Just Kidding! She is great at cooking, decorating, painting, arts, picking out a great book, photography, making me laugh, and just being a great mom! My MOM's the BEST!!!!

• Canada
27 Dec 06
My mom came to the US in the late 1950s from Japan to live far away from her family when she married my Dad. She kept house and cooked and took care of my sister and myself. When we were old enough, she went to work to help with household income, but she still always had a clean house and a happy family. My mom was strong through all my dad's illnesses and difficulties. She worked tirelessly for us. I remember her up writing thank you notes the morning after my sister's wedding when everyone was still asleep. I know she spent many sleepless nights with my Dad being sick and also with us girls (myself and my sister) when we were sick. Dad is gone now but they had a wonderful 30 plus years of marriage. Mom still takes wonderful care of my sister and I. Even though I live 350 miles away, she is there when I need her. She makes sure I always have the things I need when life is tough. She supports me and my boys and my husband emotionally through some tough times. I would be lost without my Mom.

• Philippines
27 Dec 06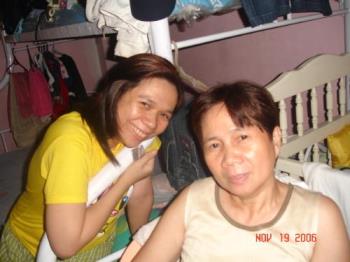 My mom is always their for me, accept my falts and failure, my short coming everything. i love my mom so much