Cans of popcorn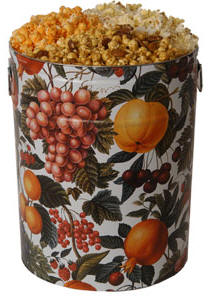 United States
December 19, 2006 11:48am CST
Okay, I told myself I wasn't going to fall into the trap of the big popcorn can with the 3 flavors but my boss brought some to work! Oh, they're good~! Butter, cheese and caramel - I used to go thru a can every single christmas just by myself, that stuff is so addictive, esp. when you're sitting around watching TV (or at a desk, typing all day long)!!!:) Check out this picture - this is a 2 GALLON CAN. Ohmigod.
9 responses

• United States
13 Feb 07
i dont like carmel corn, the cheese is pretty good, but the butter is way too bland

• United States
13 Feb 07
You should try the popcorn buckets from Blockbuster if you like butter popcorn. It's really good. :)


• United States
12 Feb 07
Everyone seems to like the caramel best! I personally am a cheese popcorn fan, but that's just me! :)

• United States
23 Jan 07
I have not had one of those cans of popcorn since I was really young. I like 2 of the 3 flavors: the butter and the cheese. The caramel is not to good to me.

• United States
24 Jan 07
The caramel is too sweet to eat much of but it's a nice treat as well. The cheese is my favorite!

• United States
17 Jan 07
I love the flavored popcorn in a can. I do not really care for the butter one though. We bought 2 cans on clearance after Christmas. My mom gave us a can for Christmas too.

• United States
17 Jan 07
:) That's how it happens. Everyone thinks it's a great gift so you get one from EVERYONE.



• United States
19 Dec 06
Yeah, that bowl (like a regular cereal sized bowl) didn't even last 2 minutes! It's so good!

• India
1 Feb 08
I am always looking for different seasonings for popcorn and new ways to eat it. I like it with cheese and also just lots of butter and salt! I love microwave popcorn the best. Pop Secret and Act II have the mini bags that is just enough for a snack.

• United States
27 Jun 07
I love Dave and Thomas popcorn. They do great flavors, like chocolate peanut butter. It's expensive, however, so it's a rare treat for me.