PUBLIC displaying and FLIRTS..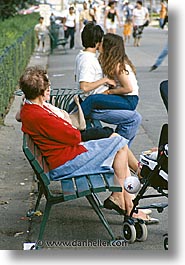 Philippines
December 19, 2006 2:28pm CST
do you like these kind of people... will you be inetrested to have friends with them? well, i do saw most of them but.. i really am not into these kind of personality people.. what about you? do you think they wont influence younger people to do the same? is too much show not healthy anymore.. i think so, why not prove it between you two and no need to show people that you are having that affection and the display for people to find you interestng and calls attention? i saw students whom i had knew in a discussion forum and they got together for just a week, then, i saw them in a very public area, they hold hands, its ok then minutes later they start holding their parts that some people stare in disbelief, then they started kissing... publicly.. tell me your views..
1 response

• Philippines
20 Dec 06
public display of affection is okay but with certain limitations.kissings are okay but please dont make too slimy or torid or lustful.a simple smack is okay.holding each others hands is also sweet.