Do you think scratchcards are a "gateway" to gambling?

Canada
December 19, 2006 5:55pm CST
I was watching the news tonight and there was a story about how some people buy scratchcards for their younger family members as stocking stuffers for Christmas. They were saying that buying these members of your family this kind of gift could lead them down the path to a gambling problem. Personally I think it's hogwash. Like anything, moderation is key. Now, giving a child a lottery ticket is actually against the law and shouldn't be done anyway, but I sure don't agree that it should be labelled as a gateway. Anything could be labelled a gateway. It's just someone trying to rationalize something. What to you folks think?
4 responses

• United States
20 Dec 06
Do they do an actual study on this? I doubt it. I agree with you uvbnskoold. Scratch offs are as innocent as they can get. You might as well say that playing monopoly is a gateway into investing in real estate. Ridiculous.

• Canada
20 Dec 06
LoL no kidding. I'm not sure if it was an actual study, but I doubt it. I just heard it on the news tonight and found it kind of ridiculous. I played Monopoly a lot as a kid and I hate Real Estate!

• United States
20 Dec 06
Exactly my point. I sometimes wonder why they haven't changed the name of the news to "Would you believe it if I told you this?"

• Canada
20 Dec 06
Hahah, nice. Or something like "This could be true but we made up some parts to make it more newsworthy" or "We ran out of real news so we started making stuff up!"


• United States
21 Dec 06
I think people are SO sensitive to every single little thing. I have seen my mother purchase scratchcards, and lottery tickets since I was younger, and feel NO need to do any type of gambling or anything. Matter of factly, I don't even buy lottery tickets myself.

• Canada
21 Dec 06
I feel the same way. I watched everyone around me do it all the time and I hardly ever play scratch tickets... or the lottery for that matter.

• United States
19 Dec 06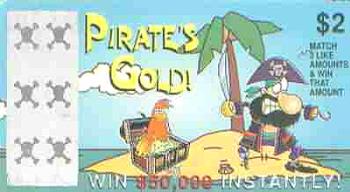 I buy lottery tickets occasionally. I've only won 1 or 2 times and it was always $100 or less. I know I'm not going to make it rich on lottery tickets and it's usu. a waste of money. I don't think buying lottery tickets is going to turn someone into a gambling addict. I think part of the reason people are addicted to gambling isn't neccessarily the game itself anyway but the fun and excitement of a casino.