Dessert Recipes - What's your favourite? Want to share the recipe?

India
10 responses

• India
20 Dec 06
i like pastries and ice-creams for desserts.. but dont know any recipies....

• India
20 Dec 06
ok dont worry...u will get some here soon....promise

• Romania
20 Dec 06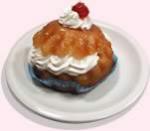 Well, only because you asked so nicely :) SAVARINA (ROMANIAN) SAVARINA: 6 eggs, separated 6 tbsp. sugar 1 tsp. baking powder 3 tbsp. flour 3 tbsp. plain bread crumbs 1 tsp. vanilla SYRUP: 1/2 c. sugar 1 c. water 1 tbsp. rum essence Strawberries Whipped cream Beat 6 egg whites. Mix in 3 tablespoons sugar. Beat 6 egg yolks with remaining 3 tablespoons sugar, baking powder, vanilla, flour, and bread crumbs. Fold egg yolks mixture into egg whites mixture gently so as not to deflate. Bake in a lightly greased and floured cake pan for 30 minutes at 300°F degrees. SYRUP: In a saucepan, combine water and sugar. Bring to a boil, then remove from heat. Allow to cool and add rum essence (real rum may be sustituted). Cool Savarina (you may freeze the cake to make it easier to handle but this is not required), cut crosswise through the center of the cake to make 2 separate layers. Pour syrup on the bottom layer, then layer with strawberries. Replace the top layer and pour syrup over the top. Top with whipped cream and garnish with strawberries. Find more recipes here: http://www.cooks.com/rec/view/0,1618,157174-255202,00.html

• United States
21 Dec 06
Sounds so yummy. Can you fly out here and make some for us? Hehhe. :) So my friend, you like to bake?

• India
24 Dec 06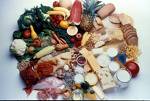 hehehe...lol...first invite him to prepare the dish thn invite me for a meal....

• India
21 Dec 06
NACHNI PANCAKES Wholesome, quick and easy dosas made with ragi. Ragi is a cereal which is not very commonly consumed by many of us. But you would be surprised to know that it is one of the greatest sources of calcium. So here's a calcium boost just for you. Cooking Time : 20 mins. Preparation Time : 15 mins. Makes 6 pancakes. Ingredients 1 cup ragi (nachni) flour 1 tablespoon soya flour (optional) 1 teaspoon sesame seeds (til) ½ cup onions, finely chopped 2 green chillies, finely chopped 1 teaspoon grated ginger ½ cup coriander, chopped salt to taste oil for cooking Method 1. In a bowl, combine the ragi flour, soya flour, sesame seeds, onions, green chillies, ginger, coriander and salt and mix well. 2. Heat a non-stick pan and grease it with a little oil. 3. Spread an even layer of the batter to make a 125 mm. (5") round. 4. Cook on both sides till golden brown, using a little oil. 5. Repeat with the rest of the batter to make 5 more pancakes. 6. Serve hot with chutney of your choice.

• India
21 Dec 06
BROWN RICE ROYAL Amount Measure Ingredient -- Preparation Method -------- ------------ -------------------------------- 2 c Sliced fresh mushrooms 1/2 c Finely chopped green onions -- including tops 1 tb Vegetable oil 3 c Cooked brown rice -- cooked in beef broth Cook mushrooms and onions in oil until tender. Add rice. Toss lightly. Heat thoroughly. Each serving provides: * 119 calories * 2.7 g. protein * 2.7 g. fat * 20.8 g. carbohydrate * 292 mg. sodium * 0 mg. cholesterol

• Belgium
23 Dec 06
French Onion Soup in a crockpot * 3 large onions, thinly sliced * 1 Tbsp. butter, melted * 1 Tbsp. olive oil * 1 tsp. sugar * 3 tablespoons flour * 1/4 tsp. pepper * 4 (14 oz) cans ready to serve beef broth In 3-4 quart crockpot, combine onions, melted butter, olive oil, and sugar. Cover crockpot and cook onions on high heat for 30-40 minutes or until onions begin to brown around the edges. Stir thorougly. Sprinkle flour and pepper over the onions; mix well. Let cook for 15 minutes longer on high. Then add beef broth and stir again. Cover crockpot and cook on LOW for 7-9 hours until onions are tender.

• India
30 Dec 06
thanks for ur love n responce to this discussion.... hope u liked it... take care keep responding to me...

• India
21 Dec 06
this is one of my favs-- HAWAIIAN SALAD A colourful salad with an orange dressing. For the orange dressing 1 tablespoon cornflour 3/4 teacup orange juice 1/2 teacup orange squash a pinch cinnamon powder For the salad 5 to 6 lettuce leaves 1/2 fresh pineapple, cut into cubes 2 apples, cut into cubes 2 bananas, cut into cubes 1 cucumber, cut into cubes 2 big tomatoes segments of 2 oranges 1/4 teacup black dates salt to taste For the orange dressing 1. Dissolve the cornflour in the orange juice. 2. Add the orange squash and cook for a few minutes till the mixture thickens. 3. Add the cinnamon and chill. For the salad 1. Keep the lettuce leaves in ice-cold water for 10 to 15 minutes. 2. Cut each tomato into four and discard the soft portion including the seeds. 3. Mix the pineapple, apple, banana, cucumber and tomato pieces, orange segments and dates with the orange dressing and salt. Chill. 4. Serve chilled on a bed of lettuce leaves.

• Philippines
27 Apr 07
The Best Ever Chocolate Mousse Recipe Ever SUBMITTED BY: Lisa Rebbechi "This is without any doubt the best ever chocolate mousse recipe I have ever tried. You have to try it to believe it! This recipe contains raw eggs. We recommend that pregnant women, young children, the elderly and the infirm do not consume raw eggs." INGREDIENTS 9 ounces bittersweet chocolate, chopped 3/4 cup miniature marshmallows 4 eggs, separated 1/2 pint heavy cream 1 dash peppermint extract DIRECTIONS In a microwave-safe bowl, microwave chocolate until melted. Stir occasionally until chocolate is smooth. Stir marshmallows into hot chocolate until melted. Set aside. Whip egg whites until stiff peaks form. Whip cream until soft peaks form. Stir egg yolks into slightly cooled chocolate mixture. Fold in egg whites and whipped cream. Stir in peppermint extract. Chill 2 to 3 hours before serving. Lemon Apricot Cake SUBMITTED BY: Glenda "Light dessert...can double for a breakfast cake." INGREDIENTS 1 (18.25 ounce) package lemon cake mix 1 cup apricot nectar 3/4 cup vegetable oil 1/3 cup white sugar 4 eggs 2 cups confectioners' sugar 3 tablespoons lemon juice 1 dash vegetable oil DIRECTIONS Preheat oven to 325 degrees F (165 degrees C). Grease one 10 inch tube or bundt pan. Combine the cake mix, white sugar, 3/4 cup vegetable oil, and apricot nectar together. Beat in the eggs one at a time, mixing well after each addition. Pour the batter into the prepared pan. Bake at 325 degrees F (165 degrees C) for 1 hour. Let cake cool in pan for 10 minute then invert onto a serving dish and pour glaze over cake while it is still warm. To Make Glaze: Combine the confectioners' sugar, lemon juice and the 3 drops of oil, mixing until smooth. Use immediately to pour over still warm cake.

• Philippines
23 Apr 07
FRIED ICE CREAM Deep fried ice cream in vegetable oil Ingredients: Ice cream vanilla (or any of your favorite flavors) 1 cup Corn flakes crushed 1 cup Graham crumbs 2 tbsp sugar 1 eggg 4 cups of clear vegetable oil (it depends on your frier the ice cream needs to be deep fried) Coating: Combine corn flakes, graham crumbs, and sugar in a bowl then set aside Ice cream molds: Scoop balls of ice cream (ice cream should be frozen) and roll it in the dry coating. Place the balls in a flat baking dish and put back in the freezer. Freeze it for another 2 hours. Cooking: Beat eggs. Put vegetable oil in frier and heeat until hot. Get the ice cream balls and dip it in eggs and roll again in the dry coating mixture. Then deep fry in oil for 20 seconds. Serve immediately

• India
30 Dec 06
I have many favourite sweet dishes but i dont know their recipies.

• United States
30 Dec 06
i like to eat sweets.here is a recipe for peanut butter balls. ingredients: 1/2 cup peanut butter 3 tablespoons butter 1 cup of white powdered sugar 6 blocks of chocolate almond bark mix the peanut butter and butter in a bowl until creamy.gradually add white powdered sugar.form into 1inch balls and set on wax paper for 20 min or until firm.melt the chocolate almond bark and dip the balls until completely covered.let them set until chocolate is completely dry.they taste like reeses peanut butter cups.

• United States
29 Dec 06
I don't really have one, I just eat whatever there is to eat.